He had expected to see the girl Eda's pursuers humans, at least, but they were machines!

There were two of them, cubical metal things four feet square, each topped by a head-like little hemisphere in which was a single glass lens with a small mouth-like aperture beneath it. They had each three jointed tubular metal arms as long as and larger than human arms, and they rolled rapidly forward on small wheels that upheld the cubical metal shapes.

Grant saw black tubes held by the arms of the things and swift consciousness of danger seized him.

"They're machines!" Loring was babbling. "God, Grant, I was right — machines pursuing humans, mastering humans — "

"We've got to run for it!" Grant cut him off. "Eda, quick ! Down over the beach !"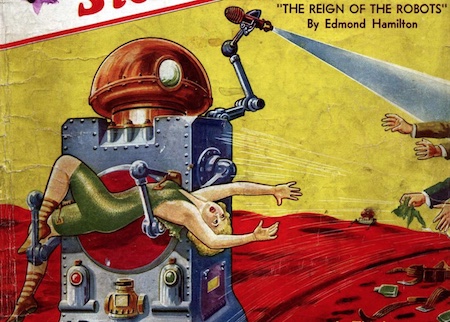 (The blue beam from 'The Reign of the Masters' by Edmond Hamilton)
A narrow beam of blue light shot toward them from the upraised tube of one of the pursuing Masters. There came a despairing cry from Eda.
"Too late! They will kill us with the blue beams now if we try to run!"
"Grant, those beams are some deadly weapon !" Loring exclaimed. "Look, another of them !"
Another of the pale blue rays had stabbed from the other of the two oncoming Masters, driving past the three humans. The two beams seemed a warning to them not to attempt flight, as with a sweep the beams could reach them.
Helplessly Grant watched the two weird shapes roll rapidly toward them. Eda also stood watching them come on with pale face and Loring with eyes in which intense interest and fear were mingled.
As the two Masters rolled up to them their blue beams snapped out, though each held its black tube ready for action in the pincer-like hand of one of its metal arms. The head-like hemispheres of the things rotated slightly, the glass lens of each seeming to survey the three humans...
The first Master rolled toward Grant and Loring. As its metal arms reached toward him Grant drew back dangerously, his fists clenched. The other Master raised his tube.
"You will be beamed if you resist," came his flat metallic voice.