"We never saw your city and its cells, or you either, before now!" Grant Perry told it. He found it hard to talk to this metal shape as to an intelligent being. "We're certainly not any slaves of you who call yourselves Masters !"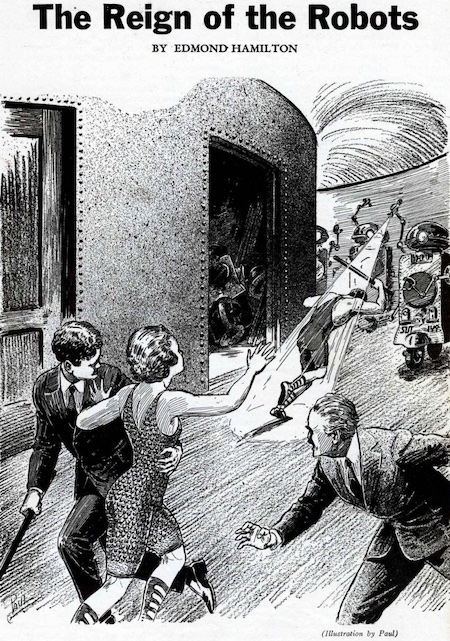 (The Machine Masters)
"It is evident that your mental apparatus is out of order," said the Master. "All humans serve the Masters and all humans have their assigned cells and serial numbers..."
'...But tell us, are there not any traditions among your people of a time when humans had no machine Masters?"
Eda frowned thoughtfully. "There are legends that tell that," she admitted, "but only very foolish people believe them. Grant."
"But what are they?" pressed Loring.
"They say," Eda recalled, "that ages ago men themselves made machines. Is it not foolish to think that humans could ever make the great, wise machines? But the legends say that they did make machines to do more and more of their work for them and that in time the machines themselves made other machines.
"Then say the tales, the machines came to have more and more of power and intelligence and men less and less. And so there came a day when the machines seized power altogether and made of men their slaves, constructing their great cities of cells below ground to hold themselves and their human slaves.
"So run the legends," Eda concluded, "but only very witless people can credit these absurd stories of a time when men were the Masters and machines the slaves.