Science Fiction Dictionary
A B C D E F G H I J K L M N O P Q R S T U V W X Y Z
Latest By
Category:

Armor
Artificial Intelligence
Biology
Clothing
Communication
Computers
Culture
Data Storage
Displays
Engineering
Entertainment
Food
Input Devices
Lifestyle
Living Space
Manufacturing
Material
Media
Medical
Miscellaneous
Robotics
Security
Space Tech
Spacecraft
Surveillance
Transportation
Travel
Vehicle
Virtual Person
Warfare
Weapon
Work
"We follow the scientists around and look over their shoulders."
- Larry Niven

| | | |
| --- | --- | --- |
| | Gyro-Hat | |
| | Hidden in a top hat, this device cures staggering and reeling, for whatever reason. | |

This absolutely charming story begins with the musings of a hatter:
The idea of a gyro-hat did not come to me all at once, as some great ideas come to inventors. In fact I may say that but for a most unpleasant circumstance I might never have thought of gyro-hats at all, although I had for many years been considering the possibility of utilizing the waste space in the top of silk hats in some way or other. As a practical hat dealer and lover of my kind, it had always seemed to me a great economical waste to have a large vacant space inside the upper portion of top hats, or high hats, or "stovepipe" hats, as they are variously called. When a shoe is on, it is full of foot, and when a glove is on, it is full of hand; but a top hat is not, and never can be, full of head, until such a day as heads assume a cylindrical shape, perfectly flat on top. And no sensible man ever expects that day to come.
When his daughter meets a man who seems to stagger and reel as a drunken sailor, he sees his chance for an invention.
Walsingham Gribbs looked at my wife, and then smiled.

"Very well," he said, "if what you wanted was to have him drunk, I'll admit that he is about the drunkest man I have ever seen. I only spoke as I did in order that I might spare your feelings, for most wives object to seeing their husbands stagger and reel. I myself stagger and reel continually, and I have never tasted intoxicating liquor in my life, but I can share the feelings of one who staggers and reels, or who has a relative that staggers and reels."

At this my wife said:

"Are you not Walsingham Gribbs? If you are I am delighted to meet you, even in this unconventional manner, for what brought us here will interest you."

She then told him of the gyro-hat I had invented, and explained just why I had come to this place and, had swallowed the strong brandy. I took no part in this conversation, but Walsingham gladly agreed to accompany us, and he put my gyro-hat on my head.

The result was indeed marvelous. Instantly the vacuum pump began to work and the gyroscope to revolve. My head, which had been lying on one side, straightened up. The rubber sweat band gripped my head tightly with a slight pulling sensation. Without assistance I arose from my chair and stood erect. My brain was still confused, but I walked as straight as a string direct to the door of the restaurant, and stood holding it open while my wife passed out with the ever staggering Walsingham.

The gyroscope was revolving at the rate of three thousand revolutions a minute, and the slight humming was hardly noticeable. I did not stagger and I did not reel. When I reached Gramercy Park I was full of glee. I had been walking on the edge of the curb, but I now desired to climb atop of the iron fence that surrounds the park, and walk on the points of the pickets.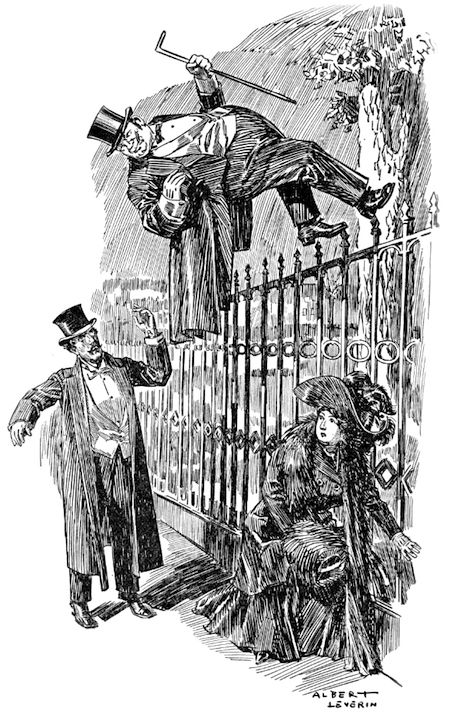 ('An Experiment in Gyro-Hats' by Ellis Parker Butler)

My wife and Walsingham tried to dissuade me, but I climbed to the top of the fence. I not only walked on the points of the pickets easily, but I was able to place the end of one toe on the point of one picket, and thus balanced, wave the other leg in the air. My wife and Walsingham Gribbs coaxed me to come down to the level of the walk, but as I saw no reason to do so, I flatly refused, and at last Walsingham reached up and took me by the hand and pulled me.

Ordinarily a man that had imbibed a quantity of brandy would have fallen to the street if pulled by one hand while standing on the top of a row of pickets, but I did not. When Walsingham pulled my hand I inclined gently toward him until I was at right angles to the picket fence, with my foot still on top of the picket; and when he released my hand I slowly swung upright again, without any effort whatever on my part. I got down off that fence when I was ready, and not before.

There could be no doubt whatever that I was far more intoxicated than Walsingham Gribbs, and all the way home I gave vent to tremendous bursts of laughter over the idea that while Walsingham thought he was seeing me safely home I walked as straight and true as a general, and he staggered and reeled except when he clung closely to my arm.

Many persons stopped and looked at us, and I cannot wonder at it. For Walsingham is a young man of most dignified countenance, and it must have seemed strange to see a young man of such sober mien reeling drunkenly, while a dignified and steadily walking hatter laughed and shouted drunkenly. It was as if the two of us had been able to afford but one spree, and had divided it in that way, he taking the stagger and I taking the boisterousness.

My wife was much touched by the kind attentions of Walsingham, and when we reached home she invited him in, and while I found a little harmless amusement in walking up the stair banisters and sliding down them standing on my feet, which I was enabled to do because of the steadying effect of the gyro-hat, she took Walsingham into the parlor and introduced him to Anne formally.

Technovelgy from An Experiment in Gyro-Hats, by Ellis Parker Butler.
Published by Amazing Stories in 1926
Additional resources -

Compare to the gyrocar from Two Boys in a Gyrocar the story of a New York to Paris motor race (1911) by Kenneth Brown, the tumblebug from The Roads Must Roll (1940) by Robert Heinlein, the Two-Wheeled Ground Car from First Lensman (1950) by E.E. 'Doc' Smith, the Gyro Two-Wheeled Truck from The Sign of the Tiger (1958) by Alan Nourse (w/Meyer), the Gyrocar (Gyro) from The Ring (1969) by Piers Anthony (w/R. Margroff) and the smart bike from Distraction (1998) by Bruce Sterling.

Comment/Join this discussion ( 0 ) | RSS/XML | Blog This |

Additional resources:
More Ideas and Technology from An Experiment in Gyro-Hats
More Ideas and Technology by Ellis Parker Butler
Tech news articles related to An Experiment in Gyro-Hats
Tech news articles related to works by Ellis Parker Butler

Gyro-Hat-related news articles:
- Liftware Level, Google's Smart Spoon


Articles related to Medical

Want to Contribute an Item? It's easy:
Get the name of the item, a quote, the book's name and the author's name, and Add it here.

Science Fiction Timeline
1600-1899
1900-1939
1940's 1950's
1960's 1970's
1980's 1990's
2000's 2010's