Science Fiction in the News Articles
related to the works of
Ellis Parker Butler
Ellis Parker Butler (b. 1869 – d. 1937) was an American author. He was the author of more than 30 books and more than 2,000 stories and essays.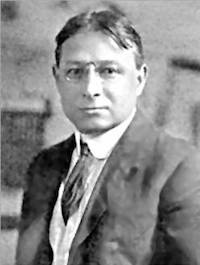 (Ellis Parker Butler)
His career spanned more than forty years, and his stories, poems, and articles were published in more than 225 magazines. He worked full-time as a banker and was very active in his local community.
Science fiction in the News articles describe real-world events that relate to the ideas and inventions in sf novels and movies. Select a news article:

New on Site
Ubik Spray Can
( 8/1/2022)
Metal Message In Space
( 7/30/2022)
Composite Living
( 7/25/2022)
Repulsor Ray
( 7/4/2022)
Blue Beam
( 7/4/2022)
Machine Masters
( 7/4/2022)
Wende
( 7/2/2022)
Air-Conditioned Coat
( 7/2/2022)
Antiturbulence Wings
( 7/1/2022)
Translation Program
( 6/29/2022)