"Isn't it a beauty?" [Grant] demanded.

It was all of that. It was a fur of some sort and there was something about the fur itself that made it glitter in the fire light, as if someone had dusted it with tiny diamond fragments. It was a golden yellow with black stripes that ran diagonally and it had the look of silk rather than of fur.

[Blaine] spread the robe carefully on the floor, took off his jacket. He kicked off his shoes and laid down on the robe. It was soft and yielding, almost like a mattress despite its lack of thickness. He pulled it over himself and it fell together smoothly, like a sleeping bag...

There was something wrong.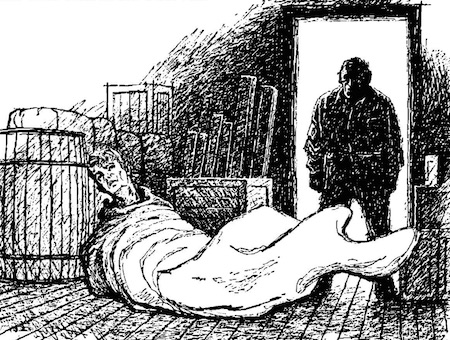 (Hunting Robe from 'Time is the Simplest Thing' by Clifford Simak)
Somehow or other, the robe had become wrapped too tightly. Rather, it tightened. He could feel it tighten. The robe held him in a gentle but unyielding grasp...
There was another picture, of another planet, and there was a being that walked along what might have been a road. It looked something like a walking cactus, but it was not a cactus and there was every doubt that it was vegetable. What was significant was that following at the creature's heels, gamboling awkwardly along that could-be road, was a half-dozen of the robes.
Hunting dogs, thought Blaine. The cactus was a hunter and these were his hunting dogs. Or he was a trapper and these things were his traps. There was some sort of phrase, a very alien phrase, perhaps a phrase from the cactus language. Blaine shouted out the phrase with all of his strength.
And as he shouted, the robe came loose.