He was awakened somewhat later by what seemed an Earth-shaking cataclysm...

Out in front there had been a lake, frozen to a depth of many feet. It no longer existed. In its place was a huge, unbelievable mass—an ellipsoid of metal, tremendous, impossible, filling the whole of the basin with its bulk, hissing, glowing with the impact of steaming ice and water on fire-hot flanks.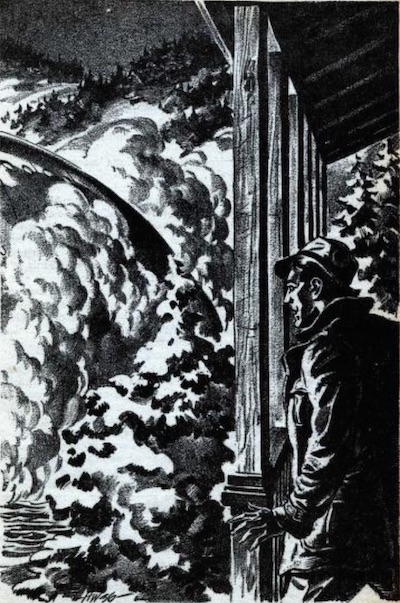 (Frozen lake destroyed! 'The Return of the Murians' by Nat Schachner)
Even as Mark stared in stunned bewilderment, little sections in the sides opened silently, and dark, ungainly monsters rose straight up into the steamy exhalations, hovered in the air as if trying to get their bearings.
Mark shrank back instinctively, with the caution of a wild animal in the presence of the unknown; but it was too late. The aerial monsters had evidently seen him. Simultaneously, they darted down for him, with a swoosh of complaining atmosphere, caught him even as he tried to race back through the door he had just quitted.
Struggling, twisting vainly, he found himself lifted high into the frosty night, like a young lamb in the talons of an eagle. Consciousness left him-
WHEN HE CAME TO, it was to a queer nightmare sense of a long sleep in which his brain had been prodded and probed, in which impalpable energies had flowed unceasingly to grant him an awareness, a knowledge that had not been his before his capture. He struggled to his feet, dazed, bewildered. No one held him; his limbs were free and unfettered.
He seemed to be within an enormous arch of metal, a great flat dome that stretched interminably for tremendous distances. Everywhere was color and movement and ordered activity; machines that were totally incomprehensible; strange, growing things; an apparatus somewhat like a helmet attached by wires to a screen from which even now sound and symbols were slowly fading. It seemed to him, dimly, that the helmet had been clamped to his own aching head, that currents had flowed into his mind while he had slept. It was a world within a world, a tiny cosmos inclosed in the orbit of this monstrous structure.
She was obviously a girl, slender, yet subtly rounded. Her face was a perfect oval, the golden orange of her skin a miracle of tinting. She was indescribably beautiful, exotic.
"It is time that you awakened," said the bearded figure. "There is so much we must know from you, and quickly."
Mark started. Somehow he understood the liquid syllables, yet the language was not of Earth. He prided himself on his knowledge of the polyglot speech of mankind.
The young girl smiled. "You learned our tongue while you were asleep, oh man of this strange planet." She indicated the helmet with a nod of hqr head.
"It is the method we employ to teach our children. A succession of images and speech impinges on the receptive centers of the brain. It saves much time and trouble."