Whereupon Webb, with a shrug of his shoulders, and slightly flattered withal, returned to his space laboratory. This was famous throughout the system, and the fruit of years of contriving. Webb Foster required absolute isolation and profound peace for his researches into the origin of all things, into the fine structure of space and time and matter. These desiderata could no longer be had on Earth, his native planet.

Earth was a vast garden city with a population of ten billion humans...

So Webb Foster had built his space laboratory. It took five years and the unremitting labor of a thousand men. But when it was finished, the planets marveled, and his fellow scientists ached with possessive longing.

It was a great crystal sphere, a thousand feet in diameter. The material was plani-glass, a transparent composition of Webb's invention. Its tensile strength was that of fine-wrought steel, but its lightness greater than that of aluminium. In its normal state it transmitted all the beating waves of space without let or hindrance; when polarized, however, only the wave lengths of light could slide along the latticed crystals. Neither electricity, magnetism, X rays nor cosmic rays could force their lethal energies through the impenetrable barrier. A special repulsor screen, such as the space ships used, diverted plunging meteors from their destructive paths.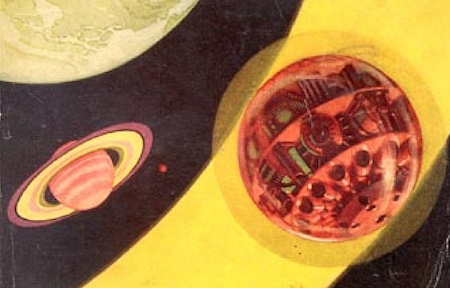 (Space Laboratory from 'Crystallized Thought' by Nat Schachner)
Within the vast concavity Webb Foster set up his laboratory. All the normal apparatus was there: huge dynamos powered by solar radiation, giant electrostatic balls, flaring electron tubes high as a building, mass spectrographs, a powerful photo-electric mosaic telescope, delicate immersion baths.
But besides this regular equipment were machines that Webb himself had fashioned: infinitely sensitive wave traps that tapped subspace itself, positron segregators, where those flash-vanishing ephemera of nature could be held indefinitely; strange spiral whirligigs in whose light-approaching speeds time itself seemed to have lost its forward march--and a myriad other complexes of ultra-science. Nor did Webb forget the more material bodily comforts. At the very center of his space laboratory he placed his living quarters, wherein he studied and ate and slept and had his controls, like an alert spider at the core of his web. In his storage compartments there was always a sufficient supply of dehydrated food for three years of wandering, a thousand-gallon tank of water, and air-purifying machines whereby the atmosphere could be indefinitely renewed and kept clean and wholesome.
WHEN the great globe was completed, and stocked with all its multitudinous machines, twenty rocket tugs towed it from its Earth hangar out into space, set it upon a previously calculated orbit a million miles beyond the Moon, gave it the necessary orbital impetus, and set it free. Whereupon the space laboratory became a second satellite to Earth, revolving majestically around the parent globe in uninhibited gravitational flight, rotating slowly on its own axis to generate an artificial gravitational field within.
There, in the depths of space, flashing like a minor planet, the space laboratory went its way, using no power in its interminable orbit, granting to its master that isolation, that abstraction from mundane noise and crowding which no longer existed on any of the inhabited worlds.