...a peeper was nothing one should monkey with.

It was a simple thing to look at - like a lopsided pair of binoculars, with a lot of selector knobs on each side and on top of it.

You looked into it and you twisted the knobs until you had what you wanted and there was a picture. You stepped into the picture and you lived the life you found there - the sort of life you picked by the setting of the knobs. And there were many lives to pick from, for there were millions of combinations that could be set up on the knobs and the factors ranged from the lightest kind of frippery to the most abysmal horror.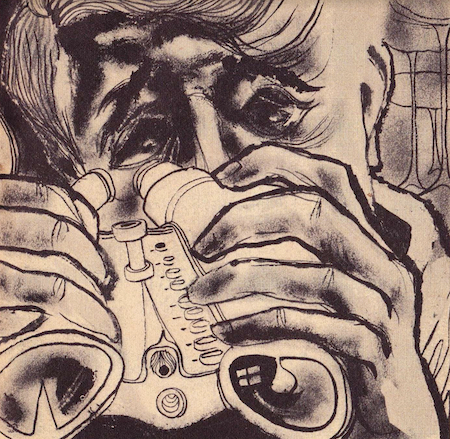 ('Shadow World' by Clifford Simak)
The peeper was outlawed, naturally - it was worse than alcoholism, worse than dope, the most insidious vice that had ever hit mankind. It threw psychic hooks deep into the soul and tugged forevermore. When a man acquired the habit, and it was easy to acquire, there was no getting over it. He'd spend the rest of his life trying to sort his life out from all the fantasied ones, getting further and further from reality all the time, till nothing was real anymore.
I squatted down beside the roller and tried to make some sense out of the knobs. There were thirty-nine of them, each numbered from one to thirty-nine, and I wondered what the numbering meant...
I pondered over the numbering, but pondering did no good. There was only one way to find out what I was looking for. So I set all the knobs back to zero on the graduated scales, then twisted No. 1 up a notch or two.
I knew that was not the way to work a peeper. In actual operation, one would set a number of the knobs at different settings, mixing in the factors in different proportions to make up the kind of life that one might want to sample. But I wasn't after a life. What I wanted to find out was what factor each of the knobs controlled.
So I set No. 1 up a notch or two and lifted the peeper and fitted it to my face and I was back again in the meadow of my boyhood – a meadow that was green as no meadow ever was before, with a sky as blue as old-time watered silk and with a brook and butterflies.
And more than that – a meadow that lay in a day that would never end, a place that knew no time, and a sunlight that was the bright glow of boyish happiness...
...the peeper did not operate by virtue of its machinery alone, but by the reaction of the brain and the body of its user – that it was no more than a trigger mechanism to set loose the greatness and the beauty and the horror that lay within the user's brain.