"Now," he said, "I am going to show you the source of New York's light and power."

A few minutes later, after both had changed their shoes, they were again seated in an aerocab and a twenty minute journey brought them well into the center of what was formerly New York state.

They alighted on an immense plain on which twelve monstrous Meteoro-Towers, each 1,500 feet high, were stationed. These towers formed a hexagon inside of which were the immense Helio-Dynamophores, or Sun-power-generators.

The entire expanse, twenty kilometers square, was covered with glass. Underneath the heavy plate glass squares were the photo-electric elements which transformed the solar heat direct into electric energy.

The photo-electric elements, of which there were 400 to each square meter, were placed in large movable metal cases, each case containing 1,600 photo-electric units.

Each metal case in turn was movable, and mounted on a kind of large tripod in such a manner that each case from sunrise to sunset presented its glass plate directly to the sun. The rays of the sun, consequently, struck the photo-electric elements always vertically, never obliquely. A small electric motor inside of the tripod moved the metal case so as to keep the plates always facing the sun.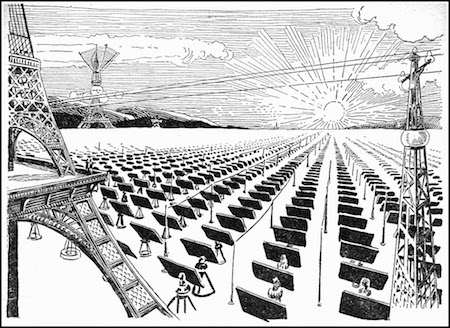 (Helio-Dynamophores from 'Ralph 124c 41 +' by Hugo Gernsback)
In order that one case might not take away the light from the one directly behind it, all cases were arranged in long rows, each sufficiently far away from the one preceding it. Thus shadows from one row could not fall on the row behind it.
At sunrise, all cases would be almost vertical, but at this time very little current was generated. One hour after sunrise, the plant was working to its full capacity; by noon all cases would be in a horizontal position, and by sunset, they again would be in an almost vertical position, in the opposite direction, however, from that of the morning. The plant would work at its full capacity until one hour before sunset.
Each case generated about one hundred and twenty kilowatts almost as long as the sun was shining, and it is easily understood what an enormous power the entire plant could generate. In fact, this plant supplied all the power, light, and heat for entire New York. One-half of the plant was for day use, while the other half during daytime charged the chemical gas-accumulators for night use.