Hugo Gernsback:
Science Fiction Technology and Ideas
Hugo Gernsbacher was born in Luxembourg in 1884. He received a technical education; his special interest was telephone and electrical communications equipment. By the end of his life, he would have 80 patents. He came to America in 1904, and began a company called the Electric Importing Company, which was the forerunner of companies like Radio Shack, selling radio building equipment by mail. The catalog of this company became Modern Electrics, a magazine that he edited and published. In 1926 he started Amazing Stories, perhaps the most famous of the early sf magazines. He died in 1967.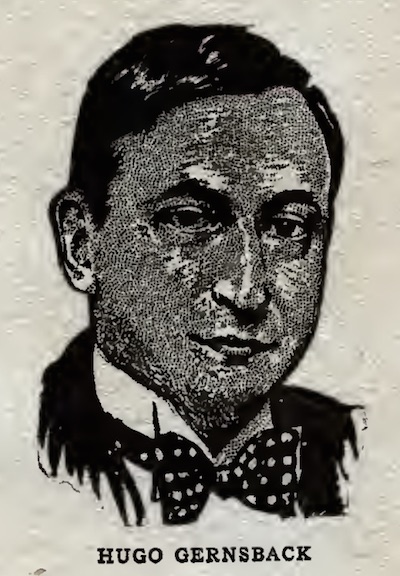 (From Science Wonder Stories)
Science fiction fans everywhere recognize him as the "Father of Science Fiction." The most prestigious award in science fiction writing, the Hugo award, is named for him.

New on Site
Water Brain Fountain
( 9/25/2023)
Artibase
( 9/25/2023)
Cold-Beam
( 9/20/2023)
Simulacrum (Sim)
( 9/20/2023)
Space Fleet
( 9/15/2023)
Gravity Neutralizers
( 9/15/2023)
Robot-Deranger
( 9/10/2023)
Chest-Lens
( 9/10/2023)
Space Navy
( 9/6/2023)
Extra-Terra Bio-Institute (ETBI) Bio-Conditioning
( 9/6/2023)