It is insufferable that wisdom should perish. We will take our knowledge to some other planet, where it can live on gloriously, even though we perish in the doing; and we must perish, because it is 350 trillion miles to Esteris (Jupiter), in the neighboring Solar System, the nearest planet that offers us any chance of a resting place. In any other direction we should need to go twice as far, which I doubt if we could do. Our ships have never traveled more than 30 million miles an hour, which was more than enough, because the only use we had for them was to go back and forth from Ekkis among the eight other planets of Ooai. You must travel eighty million or better, but there are impediments in the way of a much greater speed...

"Fellow scientists, it can be done," he shot out abruptly as he came to his feet. "It can be done; but it will take many generations. No one who sets out on the journey will live to see the end. Other generations will be born in space, live their lives and die their deaths in space, without ever feeling their feet on solid land, or even knowing what it is, and their bodies will be cast out to drift eternally in the voids...

"The first element is time. It will take 500 years to reach Esteris. We cannot expect more than 80,000,000 miles an hour out of any ship we can build. As our President has explained, there are certain difficulties in the way of a much greater speed. To travel 350 trillion miles? will take 500 years.

"As to the ship itself, it must be a new one. We have none either large enough or otherwise suitable. We have decided that it shall be but one ship, of a greater size, rather than several of smaller dimensions. It must contain everything needed to take us through the generations during which we can encounter no help...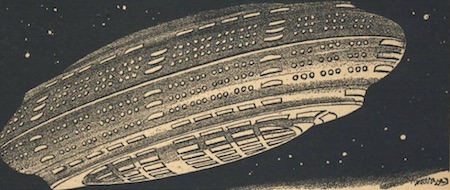 (Generation Ship from 'Tani of Ekkis' by Aladra Septama (Judson Reeves))
"The number of passengers is an important and delicate thing. We have planned on 400, which ought to be about equally divided as to sex, because we must be able to maintain our number intact. It would be useless to set out if no one were alive at the end, or a number insufficient to establish and rehabilitate ourselves...
"In order to economize food, drink, oxygen, and other things, a certain number, to be determined, will be by turns kept under the sleep. Thus we can save our supplies and increase our chances of success. But so far we have found the safe extent of the sleep is only ten years at the longest, and there must be at least as long as five years between successive applications of it.