Science Fiction Dictionary
A B C D E F G H I J K L M N O P Q R S T U V W X Y Z
Latest By
Category:

Armor
Artificial Intelligence
Biology
Clothing
Communication
Computers
Culture
Data Storage
Displays
Engineering
Entertainment
Food
Input Devices
Lifestyle
Living Space
Manufacturing
Material
Media
Medical
Miscellaneous
Robotics
Security
Space Tech
Spacecraft
Surveillance
Transportation
Travel
Vehicle
Virtual Person
Warfare
Weapon
Work
"As opposed to illiteracy, where you can't read, aliteracy means that you can but you just can't be bothered. They say aliteracy is on the rise these days."
- Peter Watts

| | | |
| --- | --- | --- |
| | Matter Transmitter and Receiver | |
| | A device that transports matter through space. | |

...the Martians said that while spaceships and the like were impossible, there was a way by which living beings could flash from earth to Mars and back by radio waves, even as our signals flashed!

Matter, it has been long believed, is but another vibration of the ether, like light and radiant heat and radio vibrations and the like, having a lower wave-length than any of the others. Suppose we take matter and by applying electrical force to it change its wave-length, step it up to the wave-length of radio vibrations? Then those vibrations can be flashed forth from the sending station to a special receiver that will step them down again from radio vibrations to matter vibrations. Thus matter, living or non-living, could be flashed tremendous distances in a second!

This the Martians told us, and said they would set up a matter-transmitter and receiver on Mars and would aid and instruct us so that we could set up a similar transmitter and receiver here. Then part of us could be flashed out to Mars as radio vibrations by the transmitter, and in moments would have flashed across the gulf to the red planet and would be transformed back from radio vibrations to matter-vibrations by the receiver awaiting us there!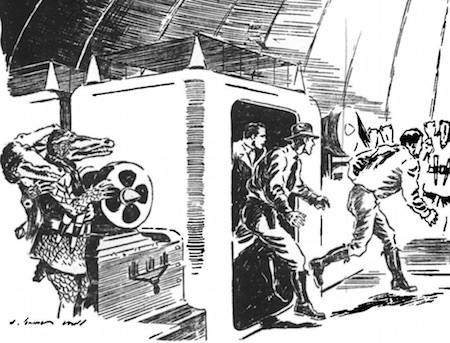 (Matter Transceiver: Monsters of Mars)
Naturally we agreed enthusiastically to build such a matter-transmitter and receiver, and then, with their instructions signalled to us constantly, started the work. Weeks it took, but at last, only yesterday, we finished it. The thing's two cubical chambers are one for the transmitting of matter and the other for its reception. At a time agreed on yesterday we tested the thing, placing a guinea pig in the transmitting chamber and turning on the actuating force. Instantly the animal vanished, and in moments came a signal from the Martians saying that they had received it unharmed in their receiving chamber.
Technovelgy from Monsters of Mars, by Edmond Hamilton.
Published by Astounding Stories in 1931
Additional resources -
Here we go!
"Zero hour," he said, stepping up into the big transmitting chamber.

Lanier and Randall slowly followed, and despite himself a slight shudder shook the latter's body as he stepped into the mechanism that in moments would send him flashing out through the great void as impalpable ether-vibrations. Milton and Lanier were standing silent beside him, their eyes on Nelson, who stood watchfully now at the big switchboard beside the chambers, his own gaze on the clock. They saw him touch a stud, and another, and the hum of the great dynamos at the room's end grew loud as the swarming of angry bees.

The clock's longer hand was crawling over the last space to cover the smaller hand. Nelson turned a knob and the battery of great glass tubes broke into brilliant white light, a crackling coming from them. Randall saw the clock's pointer clicking over the last divisions, and as he saw Nelson grip a great switch there came over him a wild impulse to bolt from the transmitting chamber. But then as his thoughts whirled maelstromlike there came a clang from the clock and Nelson flung down the switch in his grasp. Blinding light seemed to break from all the chamber onto the three; Randall felt himself hurled into nothingness by forces titanic, inconceivable, and then knew no more.
Comment/Join this discussion ( 0 ) | RSS/XML | Blog This |

Additional resources:
More Ideas and Technology from Monsters of Mars
More Ideas and Technology by Edmond Hamilton
Tech news articles related to Monsters of Mars
Tech news articles related to works by Edmond Hamilton

Articles related to Engineering

Want to Contribute an Item? It's easy:
Get the name of the item, a quote, the book's name and the author's name, and Add it here.

Science Fiction Timeline
1600-1899
1900-1939
1940's 1950's
1960's 1970's
1980's 1990's
2000's 2010's
'No, I'm Not A Robot' - Robot
'... with a weird simulation of life, the ten forked ends of each arm commenced a rattling pressing of the buttons.'