THE SPACE VESSEL was traveling swiftly. Behind it stretched the vast, frightening reaches of interstellar space...

For over five thousand years they had Voyaged on and on, steadily, ceaselessly, two hundred and fifty miles a second, eighty billion miles a year. Time had ceased to hold any meaning; space itself was. an interminable nothingness in which they seemed suspended forever and ever...

This was their world, their planet — this swift-traveling, yet seemingly moveless vessel. They knew no other, knew nothing of the wilder, freer life, except for tales distorted by the mists of time and many tellings, legends that smacked, perchance, of wish fulfillments for that earlier Golden Age of their ancestors.

Warlo, his tawny beard and high forehead granting him a nobility his slighter frame could not, turned wearily back to his instruments. On him devolved the management of the space ship, the government of its thousand-odd inhabitants.

Their strangely remote ancestors had builded well. The long ellipsoid of still unrusted, still unpitted metal was almost a mile from stem to stern, and half a mile in diameter at its widest point. It was a world in miniature, a closed cycle in which nothing was wasted, nothing dissipated.

The radiant walls still glowed as of old, though somewhat dimmer, and furnished light and the stimulating rays without which life cannot exist. One half of the ship — toward the stern — held earth and loam — in which strange plants — succulent, nourishing — grew and flourished. Stranger animals, small but fat and tender, grew to maturity in crystal-inclosed runs, bred their young, and paid the eventual penalty for all toothsome, subordinate forms of life.

By careful, exact measuring a delicate balance was established between plant and animal, between carbon dioxide and oxygen, between warmth and cold. A delicate balance, that called for unceasing, unremitting attention on the part of the leader and his corps of scientists ; a balance, that, once broken, would lead to irremediable disaster.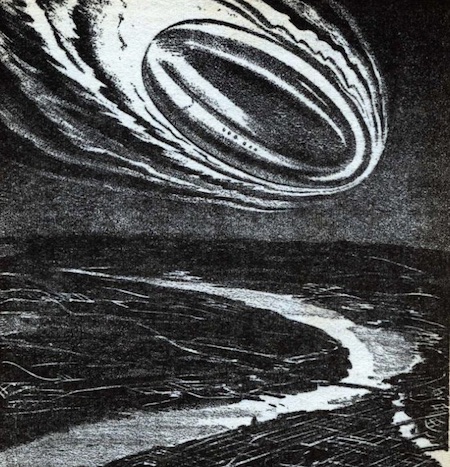 (The landing 'The Return of the Murians' by Nat Schachner)