Inside, a great arc light shed white beams over scientific paraphernalia, machine shop equipment — and the thing these elaborate devices had produced. That was a great metal cylinder, perhaps , ten feet through and twenty-five long, set up on end in the center of the dome building...

"... What is this thing? Well, it's an atom compacter. In plainer language, it digs holes..."

"With it, if you liked, you could find many times its weight in gold. For with it you could sink shafts in a few hours to the deepest of metal deposits. Or you could build commercial tunnels at a rate of many miles a day. Or it could be used as a war Instrument: You could sink in it behind your own lines, burrow forward through solid earth till you were under the enemy capital, and there lay mines to be exploded when you were far on your way home again."

"It sounds to me as though you had invented a kind of metal earthworm," sniffed Ria...

He pressed at a section of the magnesium alloy beside a hairline oblong in the wall of the cylinder. A door appeared. Swiftly the three stepped inside the cylinder.

Inside, it was like the cabin of a submarine. There were a few padded bunks, a few chairs, also padded, and bolted to the metal floor. The rest was machinery and engines and tanks in a bewildering array.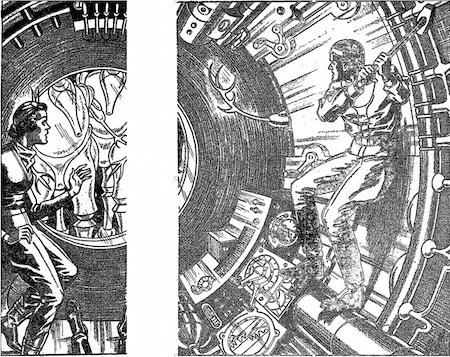 "Hang on!"
He pulled down the big, power switch.
There was a blinding arc as the switch made contact. An angry scream sounded from the end of the cylinder on which they were resting. The cylinder lurched wildly, then steadied. Ria could feel motion. It was not rapid but it was distinct. They were going down, sinking.
Street gazed at Ogden with his grey eyes shining.
"Success so far, sir," he said, in an awed tone. "The protective screen works, and we're settling down in the earth..."
"We are sinking at a rate of about five miles an hour. John, explain it to her while I look over the controls."
Street pointed to the floor of the ten foot space, like a round room about them. Ria saw a quartz-glass trap door. She could see nothing but blackness through the glass, however,
"This floor is the upper part of a sort of false bottom," Street said. "The real end of the cylinder is five feet farther down. Only there isn't any end that you. can see. The end seems to be open."
"Seems to be?" Ria echoed.
"The real end of the cylinder, Ria," Street explained, "is something invisible. It is a tremendously powerful rotating magnetic field. And it is the secret of the cylinder. That field, acting on substance before it, disrupts its atoms and then whirls the components to the rim of the field. There, the atoms are compacted and condensed. A cubic foot of rock, for ex- ample, is compacted to a cubic inch, but retains all its original weight, of course, in spite of its shrinkage. Look."
He switched on a light, which lit the space under the.glass trapdoor. Ria saw a whirling, furious mist, and, nearer to the glass, a sleek black wall, like black glass.
"The compacted matter, whirled to the rim of the hole the atom compacter is forcing for itself, is denser than any substance yet known and more than diamond hard. It makes a better tunnel lining than concrete, don't you think?"