Latest By
Category:

Armor
Artificial Intelligence
Biology
Clothing
Communication
Computers
Culture
Data Storage
Displays
Engineering
Entertainment
Food
Input Devices
Lifestyle
Living Space
Manufacturing
Material
Media
Medical
Miscellaneous
Robotics
Security
Space Tech
Spacecraft
Surveillance
Transportation
Travel
Vehicle
Virtual Person
Warfare
Weapon
Work
"I have been a soreheaded occupant of a file drawer labeled 'Science Fiction' and I would like out, particularly since so many serious critics regularly mistake the drawer for a urinal."
- Kurt Vonnegut, Jr.

| | | |
| --- | --- | --- |
| | Tripod | |
| | An enormous metallic robot. | |

A terrifying realization of the horror of mechanized warfare, from the generation before WWI. Also, this is an interesting use of a natural reference, that the robot used appendages like tentacles, as opposed to clumsy mechanical actuators.
In 1895, scientist Giovanni Schiaparelli reported seeing channels or grooves in the surface of Mars. Translations of the word he used - canali - made people think that there were canals on Mars. Schiaparelli himself published theories about life on Mars.
And this Thing I saw! How can I describe it? A monstrous tripod, higher than many houses, striding over the young pine trees, and smashing them aside in its career; a walking engine of glittering metal, striding now across the heather; articulate ropes of steel dangling from it, and the clattering tumult of its passage mingling with the riot of the thunder. A flash, and it came out vividly, heeling over one way with two feet in the air, to vanish and reappear almost instantly as it seemed, with the next flash, a hundred yards nearer. Can you imagine a milking stool tilted and bowled violently along the ground? That was the impression those instant flashes gave. But instead of a milking stool imagine it a great body of machinery on a tripod stand.

Then suddenly the trees in the pine wood ahead of me were parted, as brittle reeds are parted by a man thrusting through them; they were snapped off and driven headlong, and a second huge tripod appeared, rushing, as it seemed, headlong towards me. And I was galloping hard to meet it! At the sight of the second monster my nerve went altogether. Not stopping to look again, I wrenched the horse's head hard round to the right and in another moment the dog cart had heeled over upon the horse; the shafts smashed noisily, and I was flung sideways and fell heavily into a shallow pool of water.

I crawled out almost immediately, and crouched, my feet still in the water, under a clump of furze. The horse lay motionless (his neck was broken, poor brute!) and by the lightning flashes I saw the black bulk of the overturned dog cart and the silhouette of the wheel still spinning slowly. In another moment the colossal mechanism went striding by me, and passed uphill towards Pyrford.

Seen nearer, the Thing was incredibly strange, for it was no mere insensate machine driving on its way. Machine it was, with a ringing metallic pace, and long, flexible, glittering tentacles (one of which gripped a young pine tree) swinging and rattling about its strange body. It picked its road as it went striding along, and the brazen hood that surmounted it moved to and fro with the inevitable suggestion of a head looking about. Behind the main body was a huge mass of white metal like a gigantic fisherman's basket, and puffs of green smoke squirted out from the joints of the limbs as the monster swept by me. And in an instant it was gone.
From The War of the Worlds, by H.G. Wells.
Published by Unknown in 1898
Additional resources -
In thinking about what sort of image that this would conjure in the minds of turn-of-the-century people, take a look at this illustration from a 1906 edition: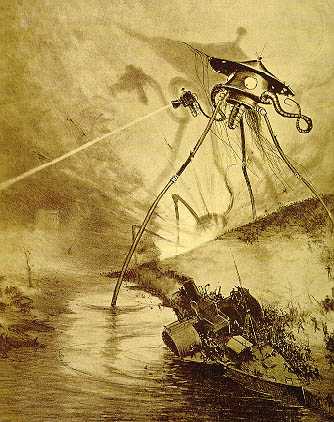 Click to see a description of the Martian heat ray. See more tripod illustrations here. Thanks to Simon for the quote for this one!

Comment/Join this discussion ( 3 ) | RSS/XML | Blog This |

Additional resources:
More Ideas and Technology from The War of the Worlds
More Ideas and Technology by H.G. Wells
Tech news articles related to The War of the Worlds
Tech news articles related to works by H.G. Wells

Articles related to Spacecraft

Want to Contribute an Item? It's easy:
Get the name of the item, a quote, the book's name and the author's name, and Add it here.