"...We'll use my 'broomstick'".

Grimes let his eyes run over his friend's fusiformed little speedster. Its body was as nearly invisible as the plastic industry could achieve. A surface layer, two molecules thick, gave it a refractive index sensibly identical with that of air. When perfectly clean it was very difficult to see.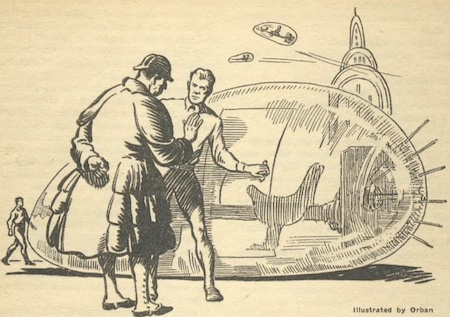 (Broomstick Speeder from 'Waldo' by Robert Heinlein)
At the moment it had picked up enough casual dust and water vapour to be faintly seen - a ghost of a soap bubble of a ship.
Running down the middle, clearly visible through the walls, was the only metal part of the ship - the shaft, or, more properly, the axis core, and the spreading sheaf of deKalb receptors at its terminus. The appearance was enough like a giant witch's broom to justify the nickname. Since the saddles, of transparent plastic, were mounted tandem oven the shaft so that the metal rod passed between the legs of the pilot and passengers, the nickname was doubly apt.
"Son," Grimes remarked, "I know I ain't pretty, nor am I graceful. Nevertheless, I retain a certain residuum of self-respect and some shreds of dignity. I am not going to tuck that thing between my shanks and go scooting through the air on it."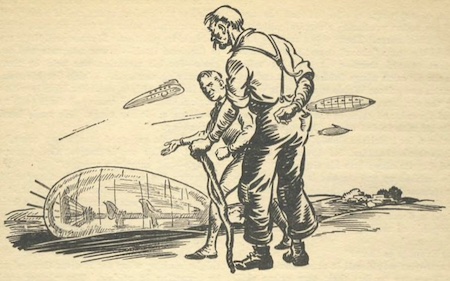 (Broomstick speeder)
"Oh, rats! You're old-fashioned... Look - I'll polarize the hull before we raise. How about it?"
"Opaque?"
"Opaque." Grimes slid a regretful glance at his own frumpish boat, but assented by fumbling for the barely visible port of the speedster. Stevens assisted him; they climbed in and straddled the stick.
"Atta boy, Doc," Stevens commended, "I'll have you there in three shakes. That tub of yours probably won't do over five hundred, and Wheelchair must be all of twenty-five thousand miles up..."
He fumbled, apparently in empty air; the hull suddenly became dead black, concealing them. It changed as suddenly to mirror bright; the car quivered, then shot up out of sight.