Interview With Greg Bear On Quantico


Quantico is an outstanding novel by science fiction author Greg Bear just published by Vanguard Press. The novel is set about ten years into the future; it focuses on the baptism-by-fire experienced by several newly-minted graduates of Quantico, the FBI academy. Quantico is an engaging thought-experiment on how terrorism might be fought in the near future. It is also an exploration of the possible outcomes of how we have prosecuted the Iraq war and the war on terror so far. I highly recommend this book.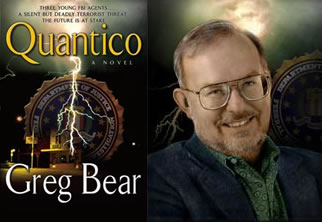 (Quantico by Greg Bear)

I had the opportunity to interview the author last week; don't miss the special technovelgy item articles with commentary by the author at the end.

Technovelgy: A version of this book was published in England in 2005. Is this version different?

Greg Bear: "The English edition came out in 2005; this book is substantially similar. Since then, the FBI has modified some of its stances on the Amerithrax case. And I have made some revisions in this book to reflect that. They [the FBI] basically pulled back on the identification of the strain of anthrax that they thought they recognized. They are much less sure now; they seem to be admitting that they really don't know where it came from - it could have come from almost anywhere."

T: Do you see Quantico as a different kind of a book for you?

GB: "Well, it is in a way. In some respects, people called Darwin's Radio a techno-thriller. I consider it to be a near-future science fiction story about biology, biotech and evolution. I think Quantico is a near-future science fiction story about crime, politics, the roads we shouldn't have taken, and contemporary culture... Most people would describe it as a more thorough techno-thriller. "

T: I read this book in two or three days. I think it's a really compulsively readable, really enjoyable book.

GB: "Thank you."

T: I read a lot of science fiction, but I also like [Tom] Clancy and other kinds of techno-thrillers...

GB: "Yes, so do I. I'm a traditionalist myself, I go back to the 1960's when Analog was publishing these kind of stories by authors like Mack Reynolds ... there was a real confluence of what we would call techno-thrillers in sf back then. As far as I'm concerned, I'm just a traditionalist and I think Tom Clancy regards himself as a bit of a science fiction writer, too."

T: Did you decide to write a book with, for lack of a better word, a broader appeal [than just the science fiction genre]?

GB: "Oh, I've been doing that for years now! [Laughs] It's hard to decide when books are going to appeal broadly. My novel EON back about twenty years ago is a very thorough-going science fiction novel with huge concepts and weird physics, and it sold millions of copies. It's really hard to say what's really going to take off and what people are going to want.

In this case, I really was concerned - I've been concerned for quite a while now - probably since I wrote Queen of Angels with the notion of how we punish offenders against the culture, against the law. And law enforcement has always been a concern; when I wrote Slant a few years ago, I was dealing with a mid-range future law enforcement officer, Mary Choi.

Now, I've pushed it a little closer to our time because of what I saw happening in the Middle East, with America's increasing conservatism, with the pressure that this was putting on the people who defend us; I decided that was a really compelling story."

T: In the novel, I believe there are references to the strong conservative bent in our political system. Doesn't one of the characters express disappointment with conservative leadership?

GB: "I don't think I actually mention that per se. I certainly see that happening now. What we're seeing is a real backlash; I don't think Bush could catch a forward wind in a hailstorm right now. What we have is a balancing out, which I talk about in Quantico. We swing to the right, we go back to the center a little bit, we correct course... this is how America operates. It really depends on personalities, intelligence, on looking at your adversaries and studying them closely. It's not about ideology, it's about personality. We often forget that who the leader is is extremely important - not so much what they say to contact their base.

That goes for all the parties. Certainly it worked in the past in the 1980's with conservatives that I highly respected at the time. We don't always agree, but we work together. But that didn't happen this time. This time, it went so far off the beaten path of American politics that we got ourselves into deep trouble. And that's what I wanted to write about in Quantico, the fact that we are all in this together, that we have to understand that we are not right all the time, whatever side we belong to, that we need the counterbalance of the opposite opinion.

Quantico shows the consequences of when we believe we can go it alone."

T: In your book, you remark that it is easy for groups or individuals to bioengineer weapons...

GB: "Right now it probably involves extreme ingenuity. But in a few more years, a decade, it will be pretty easy for anyone with moderate intelligence and access to the technology."

T: How do we have a free society, and yet constrain people who would be inclined to create things that would be catastrophically harmful?

GB: "That's an excellent question. I think its something we're going to have to develop an instinct for over the next ten years. I don't believe that strong arm government enforcement, licensing every bit of biotechnology equipment out there, monitoring labs and so on is the real answer. I think you need a multi-pronged approach. One of which is, we have to learn how not to inflame the political waters.

I remember back in the 1990s when the Republican congress was basically saying 'Let's shut down the American government,' American government is the problem, everything they're doing is wrong' and then some people started saying that American government is evil. And very shortly thereafter we had Timothy McVeigh, and the Murrah Federal Building. They had politically assigned the target, and someone, one of those strange individuals had decided to take out the target.

That can't go on. We can't inflame political opinion, when slightly unbalanced, or totally unbalanced individuals have access to these kinds of weapons. It isn't new, we've had anarchists chucking bombs for many years now. We've had people trying to blow up school houses in the 1920's, and the FBI has dealt with many examples of this white power terror [like] the lynchings in the South.

What we have now is that the power could be greater, with biotechnology we really have to step back and ask ourselves 'Is it good to support a political individual or political party that is trying to inflame the electorate when the consequences can be so dire?'

On either side: in the 70s and 60s, the left was getting pretty radical, and I think they really destroyed their opportunity to lead America to a more rational political ground, even though they were opposed to the war and that was probably a rational decision. But the way they carried out their conduct was probably, to my mind, destructive. The right has now suffered the same fate. There was a reaction to the left back then, and we see this in the reaction to the right now."

T: Are there particular technologies or components that should not be made available to individuals?

GB: "There is a little bit of that that is going to be necessary... You don't give a high school science lab the ability to make TNT, for example."

T: [Laughs] Actually, I knew a kid in science class who did that...

GB: "Chemistry sets are not as readily available now, for a variety of reasons. We monitor the materials to make crystal meth, we know who is using this stuff. Homeland Security is moving to monitor these things. It might limit youthful scientific flexibility, but the trade-offs could be defensible.

The other side is preparing defenses against biological attacks. Right now we have a lot of equipment which is in research form, some of which has been placed in the field, miniaturized detection equipment.

I have this in Quantico, the WAGD, which can pick up every commonly pathogenic bacteria or virus trace by rubbing a wet felt-tip marker against it..." [read more about the WAGD]

T: Did you read The White Plague by Frank Herbert? [In this 1982 novel, Herbert writes about a molecular biologist who loses his wife and family to an IRA bomb, and engineers a plague virus that targets and kills only women.]

GB: "Yes, I did. There was also the Satan Bug in the 1960's, and even earlier, maybe in the 1930's. I'm hoping that Quantico can provide some emotional catharsis for all we've been through, for all we've put up with, for all the anger and the angst America has gone through in the last six years. I hope, besides being entertaining, its a bit of a cathartic, because we have to think smart. We have to prescribe to ourselves ways of thinking, technology and government approaches that will succeed, rather than just getting us deeper into trouble."

T: I liked The White Plague, but it's just too difficult, to painful, to reread. I'm one of those people who likes to read books over and over; I think Quantico is one of those books that will bear rereading, it has a lot of detail. I mention it because I think some people may not want to buy a hardcover that will just sit on the shelf later."

GB: "Well, thank you. The Vanguard Press edition is really a lovely book. It's well-made, with a good cover, and I'm very pleased with it. It could easily sit on my shelf. I've got a few there, in fact..." [laughs]

T: What other important themes do you touch on in Quantico?

GB: "The other thing I was trying to accomplish was to get the feeling of what it is like to be a character on the cutting edge, in the line of fire, going into harm's way; extraordinary pressure is put on you to think a certain way in order to survive the circumstance you're forced into. How [do] the people around you, the government that you are employed in or working for, how do all of these forces change you?

I saw that when I was at Quantico, the FBI academy, giving a talk there. And that's what inspired this whole thing, watching very dedicated law enforcement officers whom I thought were on the edge of burnout. They've spent 20-30 years in law enforcement and their whole attitude was 'we have to lock them up and put them away, and keep the public safe' and yet, because of the way our society is set up, the way the politics works, the way law enforcement has to work, they couldn't do what they wanted to do.

And that's always the case. When you're a soldier, you can't always do what you need to do to get the job done, there are always constraints. If those constraints are intelligently designed if your leaders understand you and understand the situation they're putting you into, you have a much greater chance of coming out alive.

If your leaders are uninformed, dogmatic, poor planners or [poor] strategic thinkers, when you go into those situations you suffer and you die. What's the old saying? "The generals and the brass hats send the young men in to die.' I'll tell you that even in WWII, there were good generals, from the soldier's point of view, and there were generals that you didn't want to be associated with."

T: And there was a lot of public debate about the war [during WWII]...

GB: "That's right. The fact is that leadership is extremely important. Americans are a little too... self-satisfied, a little too smug, too comfortable, even after 9/11 to realize this."

T: Even given the manner in which the war in Iraq has been prosecuted...

GB: "That whole situation was just amazing to watch, it was so counter-productive. When you are in a war, you don't waste your resources, marching off in all directions at once. And you don't go off in the wrong direction. When your enemy didn't attack you that way, and then to try and persuade the American public by being misleading, this is a terrible way to prosecute a long term effort or a war. And our troops are suffering for it.

But when we talk to those troops, they are still totally dedicated. Why? Because in the position they are in, they have to be. These people are among our most valuable assets and they have to be totally dedicated. And that's something we can't afford to waste or abuse."

To finish the interview, I asked Greg about some of the different ideas and 'inventions' used in the book; you can read his interview comments, read short book excerpts and find out more about them in the following technovelgy articles:

Want more book excerpts and ideas from Greg Bear? Find out about Greg Bear's novels and ideas and inventions, as well as real-life news stories related to his books. Also, see the Quantico book website.

Scroll down for more stories in the same category. (Story submitted 4/16/2007)

Follow this kind of news @Technovelgy.

| Email | RSS | Blog It | Stumble | del.icio.us | Digg | Reddit |

Would you like to contribute a story tip? It's easy:
Get the URL of the story, and the related sf author, and add it here.

Comment/Join discussion ( 3 )

Related News Stories - (" Culture ")

Drones Participate In Buddhist Rites
'...a prayer wheel swung into view and began spinning at a furious pace.' - Roger Zelazny, 1967.

Peyton Manning's French Bread Olympics - Science Fiction Style
'the inauguration of the helium-filled loaf...'

Do Aliens Have A 'Non-Interference' Prime Directive?
'... it was against the law for our people to visit Earth.' - George Parsons Lathrup, 1897.

Collie Dog Suit Fulfills His Dream - Of Walking In Public As A Dog
'The Lon Chaney of the interstellar set.' - Roger Zelazny, 1976.

Technovelgy (that's tech-novel-gee!) is devoted to the creative science inventions and ideas of sf authors. Look for the Invention Category that interests you, the Glossary, the Invention Timeline, or see what's New.