Science Fiction Dictionary
A B C D E F G H I J K L M N O P Q R S T U V W X Y Z

'Tricorder' Ready For Mars Rover This Year


As science fiction fans may recall, the tricorder was a standard issue prop in the original Star Trek series of the mid-1960's. The standard Starfleet tricorder was used for determining various characteristics of landing areas; the chemical composition of any material was easily determined. Tricorders need only be aimed at the object of study, and a material analysis is ready for the user in moments.
Of course, that's just science fiction. Or is it?
"We're developing a tricorder," declares Dr. Robert Downs of the University of Arizona Department of Geosciences. The technology is being developed to create a pocket-sized model for the 2009 Mars rover that will be able to determine the composition of minerals in Martian rocks and soil.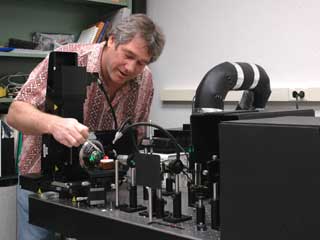 (Robert Downs adjusts material in a Raman spectrometer)
The new "tricorder" will have two functional parts: a very compact Raman spectrometer and a comprehensive database of Earth's minerals.
The Raman spectrometer is based on a technique developed by Sir C.V. Raman, an Indian physicist who won a Nobel prize in 1930 for the discovery. Unlike most methods of conducting an analysis of a material, it does not require destructive testing. By firing a laser at the sample, atoms are excited, which then emit a very weak light with a pattern characteristic of the material. Says Downs, "It's like a fingerprint." Dr. Bonner Denton is working on the hardware side; NASA is providing funding to develop the instrument for the 2009 Mars Rover.
The other necessary component is a database of these patterns; this requires that known samples are tested and the patterns are recorded. As you might imagine, this is a labor-intensive process; a group of undergraduate researchers is helping complete the RRUFF Project, the first comprehensive database of the Raman spectra of all of Earth's minerals. The RRUFF Project is funded by a grant from Michael Scott, founding president of Apple Computer. (RRUFF is the name of Scott's cat.)
The device will have applications in many fields, not just planetary exploration. According to Dr. Downs:
"Bonner Denton has a demonstration he uses upstairs. He takes a bottle of Tylenol, a white plastic container and the pills are inside. You can shoot the Raman [specrometer] and a laser goes through that white plastic, it identifies the three parts of Tylenol and it tells you what the plastic is made out of. It works on leaves. I can identify the species of trees by shooting their leaves. I don't think the biologists are aware of this yet."
(From Mars Science Laboratory)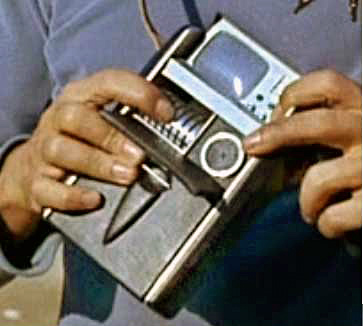 (Spock's Tricorder - Detail)

Dr. Downs and Dr. Denton are working on the materials part of a tricorder; take a look at the NUGGET - Neutron/Gamma Ray Geologic Tomography device to see how NASA is doing on a device that can detect life forms. Read more from these reference articles: Identifying Gems and Minerals on Earth and Mars and Mars Science Laboratory

Scroll down for more stories in the same category. (Story submitted 3/12/2006)

Follow this kind of news @Technovelgy.

| Email | RSS | Blog It | Stumble | del.icio.us | Digg | Reddit |

Would you like to contribute a story tip? It's easy:
Get the URL of the story, and the related sf author, and add it here.

Comment/Join discussion ( 5 )

Related News Stories - (" Space Tech ")

ESA Awards Study For Lunar Satellite Communications And Navigation
'Messages drifted in - from liners and freighters, from police-ships, from yachts of space...' - Miller and McDermott, 1932.

Bigelow BEAM Still Useful On ISS
'It's a shame, ain't it, Frank—calling a pretty thing like that a 'bubb'—it's an ugly word. Or even a 'space bubble.' - Raymond Z. Gallun, 1961.

Triple Star System Tears Apart Its Planetary Disk
'Our planet, Ev, hangs spinning in the triangle formed by the three, and the three suns revolve slowly around it.' - Edwin K. Sloat, 1933.

TransAstra Lunar Mining Idea Was Max Valier's In 1931
'This concentrated sunlight... would cause subsurface ice to sublimate into water vapor...' - Max Valier, 1931.

Technovelgy (that's tech-novel-gee!) is devoted to the creative science inventions and ideas of sf authors. Look for the Invention Category that interests you, the Glossary, the Invention Timeline, or see what's New.

Science Fiction Timeline
1600-1899
1900-1939
1940's 1950's
1960's 1970's
1980's 1990's
2000's 2010's
Current News
Snakebot Burrows Underground, Thanks To Biomimicry Of Multiple Species
'Seen close it was not completely flexible, but made instead of pivoted and smoothly finished segments.'
Stretchable OLED Heart Monitor Band-Aid
You can't buy them in the store just yet.
Can We Grow Crops On Mars?
Does Martian soil require remediation?
How Long Have YOU Wanted A Household Robot?
'We followed in breathless amazement. In less than five minutes, bed number one was made...'
CopterPack Is Robert Heinlein's 1954 Copter Harness
'...a single flyer, hopping free in a copter harness.'
Amazen ZenBooth Dispenses Serenity At Amazon
'That's what I get for dialing zen, Joe said to himself.'
Digger Finger: Super-Sensitive Robot Fingers Predicted In 1931
'Migul's fingers with the extended filaments were feeling it... What an amazing development of science.'
Baubotanik - Construction Botany - Builds Bridges
'A dwelling must be all of a unit—the walls, the drainage, the decor grown in!'
ESA Awards Study For Lunar Satellite Communications And Navigation
'Messages drifted in - from liners and freighters, from police-ships, from yachts of space...'
Bigelow BEAM Still Useful On ISS
'It's a shame, ain't it, Frank—calling a pretty thing like that a 'bubb'—it's an ugly word. Or even a 'space bubble.'
DARPA's Sarcasm Detector Totes Gets Your Drift
'TARS, what's your sarcasm setting?' '100 percent.'
Tokyo's Nakagin Capsule Tower Tear-Down, Neuromancer's Coffin Hotel Lives Forever
'Plastic capsules a meter high and three long, stacked like surplus Godzilla teeth...'
Robotic 'Third Thumb' Rewires Your Brain
'When he's connected up to your nervous system, you'll be able to make him whistle, hiss, roar, flap his wings and spit sparks...'
AliveCor Claims Apple Watch Infringes ECG Patents
'...a sweet mezzo-soprano voice remarked in a conversational tone: "I think you should sit down and rest for about ten minutes.'
Triple Star System Tears Apart Its Planetary Disk
'Our planet, Ev, hangs spinning in the triangle formed by the three, and the three suns revolve slowly around it.'
Ford's In-Car Ads From Billboards
'It would soon squeeze in and harangue him in the cranky, garbagey fashion of the Nitz advertisements.'