Science Fiction Dictionary
A B C D E F G H I J K L M N O P Q R S T U V W X Y Z
Latest By
Category:

Armor
Artificial Intelligence
Biology
Clothing
Communication
Computers
Culture
Data Storage
Displays
Engineering
Entertainment
Food
Input Devices
Lifestyle
Living Space
Manufacturing
Material
Media
Medical
Miscellaneous
Robotics
Security
Space Tech
Spacecraft
Surveillance
Transportation
Travel
Vehicle
Virtual Person
Warfare
Weapon
Work
"I love that computer science has made mathematics into something like an experimental science. I was never all that good at proving things, but I love doing computer experiments."
- Rudy Rucker

| | | |
| --- | --- | --- |
| | Solar Sail (Light Sail) | |
| | A form of propulsion for spacecraft; a sheet of lightweight material reflects light from the sun or other light source. | |

An early use of this term in science fiction is in Jack Vance's Sail 25, with the marvelous character Henry Belt, an experienced spacer who is the captain of a small training craft called Sail 25.
The propulsion for this craft comes from light pressure (also called radiation pressure) from the sun upon this sail made of extremely lightweight material.
The story is about a training cruise, in which six cadets are taken on a simple little training cruise to Mars.
First, why bother with the sail, when nuclear jet-ships are faster, more dependable, more direct, safer and easier to navigate? The answer is three-fold. First, a sail is not a bad way to move cargo slowly but cheaply through space. Second, the range of the sail is unlimited, since we employ the mechanical pressure of light for thrust, and therefore need carry neither propulsive machinery, material to be ejected, nor energy source. The solar sail is much lighter than its nuclear powered counterpart, and may carry a larger complement of men in a larger hull. Thirdly, to train a man for space there is no better instrument than the handling of a sail. The computer naturally calculates sail cant and plots the course; in fact, without the computer, we'd be dead ducks...

Thee are two types of sail: pure and composite. The first relies on solar energy exclusively, the second carries a secondary power source...

The pressure of radiation, of course, is extremely light - on the order of an ounce per acre at this distance from the sun. Necessarily, the sail must be extremely large and extremely light. We use a fluro-siliconic film a tenth of a mil in gauge, fogged with lithium to the state of opacity. Such a foil weighs about four tons to the square mile. It is fitted to a hoop of thin-walled tubing, from which mono-crystalline iron cords lead to the hull.
Technovelgy from Sail 25, by Jack Vance.
Published by Not Available in 1962
Additional resources -
This is a classic story; unfortunately, it is mostly available in out-of-print collections.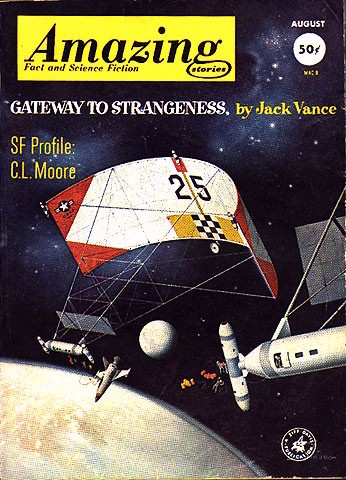 (Sail 25, Jack Vance, )
This describes the preparation of the sail material:
Around the hull swung the gleaming hoop, and now the carrier brought up the sail, a great roll of darkly shining stuff. When unfolded and unrolled, and unfolded many times more, it became a tough, gleaming film, flimsy as gold leaf. Unfolded to its fullest extent it was a shimmering disk, already rippling and bulging to the light of the sun. The cadets fitted the film to the hoop, stretched it taut as a drumhead, cemented it in place...
Johannes Kepler speculated that comets' tails are bent by the sun's action in his 1619 book Opera Omnia. Newton thought it was possible that light would exert pressure on material bodies. The existence of light pressure was demonstrated in theory by James Clerk Maxwell in 1873. Laboratory experiments confirming the theory were performed in 1910 by P.N. Lebedev, a Russian physicist, who overcame great difficulties in measuring the 4.7 x 10-6 N/m2 pressure of noon sunlight here on Earth. In the 1920's, Konstantin Tsiolkovsky and Fridrich Tsander wrote about "using tremendous mirrors of very thin sheets... using the pressure of sunlight to attain cosmic velocities."

The first mention of solar sails in a science fiction publication was not in a story; it occurred in the May 1951 issue of Astounding Science Fiction. Carl Wiley published an article called "Clipper Ships of Space."

The first publication directly describing space sailing was probably The World, The Flesh and the Devil (1929) by JD Bernal.

The very first science fiction story about solar sails was probably "The Lady Who Sailed The Soul" (1960) by Cordwainer Smith. The story takes place thousands of years in the future - "Out of it all, two things stood forth - their love and the image of the great sails, tissue-metal wings with which the bodies of people finally fluttered out among the stars." (See the entry for starlight sail.)

The first person to suggest solar sailing was probably Johannes Kepler, in a 1608 letter to Galileo: "Provide ships or sails adapted to the heavenly breezes, and there will be some who will brave even that void."

In 1958, NASA launched Echo 1, the first U.S. passive communications satellite. It was an aluminum-coated Mylar plastic balloon (microwaves bounced off it). Echo 1 is the first time NASA included solar pressure in calculating trajectory. Once in orbit, solar pressure moved the "sateloon" but didn't collapse it.

Apparently, some projects have already been tried to attempt to prove the real-world feasibility of light sails. Reflective panels may be used to slowly steer spacecraft, conserving fuel better used for maneuvering. A similar sort of scheme involves using lasers to push on a solar sail, thus powering a ship from a distance; see laser cannon, from Mote in God's Eye by Larry Niven and Jerry Pournelle.

As far as I know, the first use of the phrase is from Think Blue, Count Two (1962) by Cordwainer Smith; see light-sail ship.

Compare to these propulsion systems: Light Pressure Propulsion (1867), apergy (1880), space sailing (1929), Beam-Powered Propulsion (1931), Granton motor (1933), Vibration-Propelled Cruiser (1928), geodynes (1936), ion drive (1947), Planetary Propulsion-Blasts (1934), stardrive (1953), solar sail (light sail) (1962), Lyle drive (1961), laser cannon (1966), Bussard ramjet (1976), asymptotic drive (1976), Interstellar Laser Propulsion System (1985).

Comment/Join this discussion ( 6 ) | RSS/XML | Blog This |

Additional resources:
More Ideas and Technology from Sail 25
More Ideas and Technology by Jack Vance
Tech news articles related to Sail 25
Tech news articles related to works by Jack Vance

Solar Sail (Light Sail)-related news articles:
- Solar Sails Unfurled Over Japan
- Jack Vance's Incredibly Thin Solar Sail
- Ikaros Solar Sail Works!
- Solar-Photon Hoop Sails For Extrasolar Travel
- Unrolling The Filmy Materials Of Space Tech


Articles related to Space Tech

Want to Contribute an Item? It's easy:
Get the name of the item, a quote, the book's name and the author's name, and Add it here.

Science Fiction Timeline
1600-1899
1900-1939
1940's 1950's
1960's 1970's
1980's 1990's
2000's 2010's
Mika The Robot-Boss
'the robot-boss was busy at the lip of the new lode instructing and egging the men on to greater speed...'