Jack Vance:
Science Fiction Technology and Ideas
Jack Vance was born in California in 1916 (d. 2013), published his first story in 1945. Vance's work defies easy description; his highly literate style is not what most science fiction readers expect. His work has won many awards, including two Hugos, a Nebula, the World Fantasy Award, an Edgar (for mystery) and the SFWA Grandmaster award for his lifetime of work.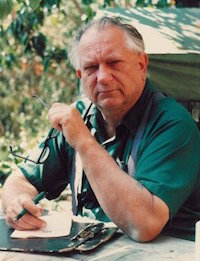 (From Jack Vance)
In an unusual tribute to Vance, his entire output of stories and novels is being collected in the Vance Integral Edition, a volunteer effort by hundreds of fans.

New on Site
Aeropile
( 12/3/2023)
General Intelligence Machine
( 12/3/2023)
Interplanetary-Liner
( 12/2/2023)
Moon-Dome
( 12/2/2023)
Levitator Pack
( 12/2/2023)
Landing on the Moon
( 11/29/2023)
Personality-Construct (Lazarus)
( 11/25/2023)
Airchair
( 11/25/2023)
Meteor Hulls Ship
( 11/24/2023)
Asteroid Lanes (Blasted)
( 11/22/2023)