It was a big, imposing tree. Its dark green, fibrous trunk, seven feet in diameter, soared up to twenty-five feet before it split into strong, lengthy branches each of which terminated in one huge, spatulate leaf...

Carefully, we went around the tree, gazing up into its great branches through which the green light filtered in large mosaic patterns...

"That's a puzzler !" Jepson stepped well away from the trunk, seeking a better angle of view.

With a mighty swoosh a branch above his head drove down. Its spatulate leaf smacked him squarely in the back and a waft of pineapple and cinnamon went all over the place. Just as swiftly, the branch went up, carrying Jepson high into the air. Swearing like a tail mechanic, he struggled furiously while we gathered below him. He was stuck to the underside of that great leaf, gradually became covered in thick, yellowy-green goo as he writhed...

Together we roared at him to keep still before he got the deadly junk spread all over his face. Already his clothes were covered with it, his left arm tied up in it. He looked a mess...

Whereupon I aimed my needle ray at the point where Jepson's leaf joined the branch. The beam lanced forth at full strength.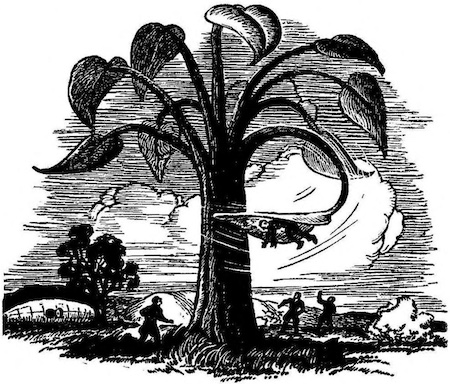 ('Gum Tree' from Symbiotica by Eric Frank Russell)
The leaf dropped off and the tree went mad. Jepson fell into soft, springy undergrowth, the leaf still firmly fastened to his back. He landed with a wild yelp and a flood of curses. While we all lay flat, frantically trying to bury ourselves deeper, the tree thrashed around, its gum-laded spatulates hungry for vengeance.
One persistent branch kept beating within a yard of my head as I tried to shove said top piece below ground.
The tree ended its wild larruping, stood like a dreaming giant liable to wake into frenzy at any moment. Crawling to Jepson, we dragged him out of reach. He couldn't walk, his jackboots and the legs of his pants being firmly stuck together.