Gradually, from the mists of oblivion, he became aware of sounds — rustling, metallic sounds, like joints moving in oiled sockets. For a time he lay with his eyes closed, almost devoid of all sensation, save profound bewilderment. The memory of his fall and blow on the head was still in his mind.

His nostrils drew in the sweetish, sickly odor of powerful antiseptics..

Wearily he opened his eyes, lay gazing in blank wonderment at a shadowless flood of light contrived from somewhere in a metal ceiling above him. His first impression, which he just as quickly dispelled, was that he was in some kind of hospital. But the instruments around him were ahead of those in any hospital, despite the advanced surgery of this year 1967. Further, the objects moving about so gently and putting their instruments away were not living beings, but robots. Three of them — perfectly fashioned creatures of metal, even with strong resemblance to human beings in outline and face, but just the same still mechanical.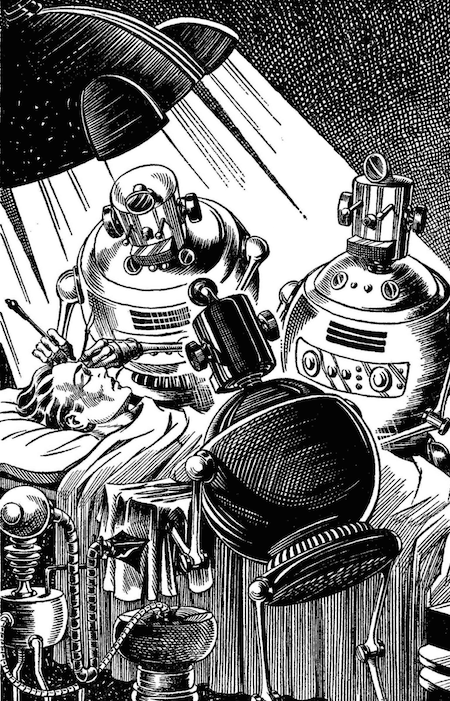 (Robot Surgery from 'Secret of the Buried City' by Fearns)
"Robot surgeons operated on Rodney Marlowe's
injured head with superhuman efficiency."
"Say, where the hell am I?" he demanded hoarsely, staring at the nearest robot.
The thing turned, moved slowly to- ward him. Then it spoke in a metallic voice — strangely enough in English.
"You are Rodney Marlow?" It was more a statement than a question.
"Yeah, sure I am, but who the devil are you? How did I get into this place, anyway?"
...The thing paused for a moment, then the words from its open mouth orifice resumed.
"You stunned yourself when you fell from the steps. In fact you cut your head rather severely. An operation soon restored you to normalcy."