O'Neill realized with a start that he had been looking at it for several minutes without recognizing it. The search-bug lay absolutely still. It rested at the crest of a small rise of slag, its anterior end slightly raised, receptors fully extended. It might have been an abandoned hulk; there was no activity of any kind, no sign of life or consciousness. The search-bug fitted perfectly into the wasted, fire-drenched landscape. A vague tub of metal sheets and gears and flat treads, it rested and waited. And watched.

It was examining the heap of tungsten. The bait had drawn its first bite.

"Fish," Ferine said thickly. "The line moved. I think the sinker dropped."

"What the hell are you mumbling about?" Morrison grunted. And then he, too, saw the search-bug. "Jesus," he whispered. He half rose to his feet, massive body arched forward. "Well, there's one of them. Now all we need is a unit from the other factory. Which do you suppose it is?"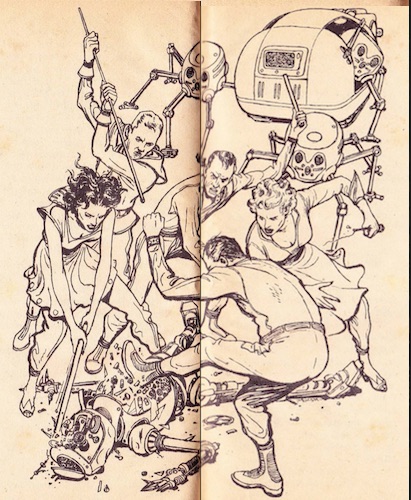 (Search robots from 'Autofac' by Philip K. Dick)
O'Neill located the communication vane and traced its angle. "Pittsburgh, so pray for Detroit… pray like mad."
Satisfied, the search-bug detached itself and rolled forward. Cautiously approaching the mound, it began a series of intricate maneuvers, rolling first one way and then another. The three watching men were mystified — until they glimpsed the first probing stalks of other search-bugs.
"Communication," O'Neill said softly. "Like bees."
Now five Pittsburgh search-bugs were approaching the mound of tungsten products. Receptors waving excitedly, they increased their pace, scurrying in a sudden burst of discovery up the side of the mound to the top. A bug burrowed and rapidly disappeared; The whole mound shuddered; the bug was down inside, exploring the extent of the find.