The Golden Asteroid!
For a moment we were startled beyond expression. The truth had flashed upon us.
This must be a golden planet—this little asteroid. If it were not composed internally of gold it could never have made me weigh three times more than I ought to weigh.
"But where is the gold?" cried one.
"Covered up, of course," said Lord Kelvin. "Buried in star dust. This asteroid could not have continued to travel for millions of years through regions of space strewn with meteoric particles without becoming covered with the inevitable dust and grime of such a journey. We must dig down, and then doubtless we shall find the metal."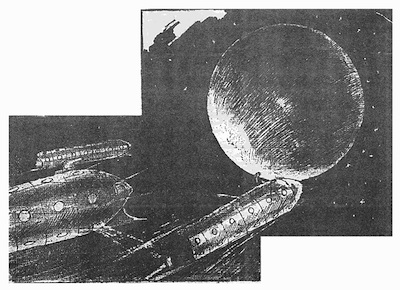 This hint was instantly acted upon. Something that would serve for a spade was seized by one of the men, and in a few minutes a hole had been dug in the comparatively light soil of the asteroid.
The Precious Metal Discovered.
I shall never forget the sight, nor the exclamations of wonder that broke forth from all of us standing around, when the yellow gleam of the precious metal appeared under the "star dust." Collected in huge masses it reflected the light of the sun from its hiding place.
Evidently the planet was not a solid ball of gold, formed like a bullet run in a mould, but was composed of nuggets of various sizes, which had come together here under the influence of their mutual gravitation, and formed a little metallic planet.
Judging by the test of weight which we had already tried, and which had led to the discovery of the gold, the composition of the asteroid must be the same to its very centre.