Latest By
Category:

Armor
Artificial Intelligence
Biology
Clothing
Communication
Computers
Culture
Data Storage
Displays
Engineering
Entertainment
Food
Input Devices
Lifestyle
Living Space
Manufacturing
Material
Media
Medical
Miscellaneous
Robotics
Security
Space Tech
Spacecraft
Surveillance
Transportation
Travel
Vehicle
Virtual Person
Warfare
Weapon
Work

Comments on Quasi Universal Intergalactic Denomination (QUID) New Space Currency
It's a mouthful - but you can call it a QUID for short. Why can't I just call them 'credits?' (Read the complete story)
"My favorite sci-fi currency is "quatloos" from the Star Trek episode "The Gamesters of Triskelion". http://en.wikipedia.org/wiki/The_Gamesters_of_Triskelion "
(Rob 10/8/2007 8:30:48 AM)
"How about just 'Solar'? Denominations are broken down like the metric system- i.e. 10.60 Solar + 23.50 Solar = 34.10 Solar. " hey, buddy, can I borrow .5 Solar for a quick call to Earth?" "
(IsoBan 10/8/2007 9:12:34 AM)
"That's close to what Frank Herbert used in the Dune novels - solaris."
(Bill Christensen 10/8/2007 7:21:02 PM)
"Rob - I totally forgot about that episode. "Provider One bids five quatloos!" That was a great episode. And don't forget the thralls.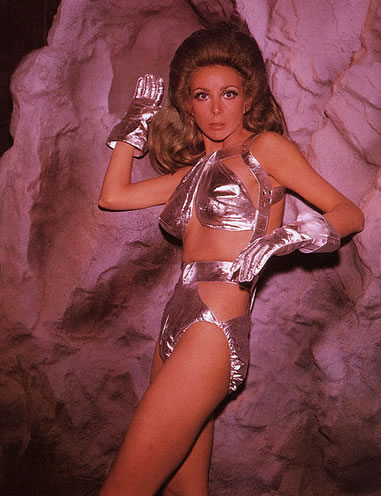 (Don't forget the thralls of Triskelion)

"
(Bill Christensen 10/8/2007 7:21:24 PM)
"Nature decays, but latinum lasts forever. - 102nd Rule of Acquisition Gold pressed latinum comes in slips, strips, bars and bricks."
(Danny 10/11/2007 3:14:39 AM)
"This is awesome! I wonder if these will actually be used in the near future. I bet space tourists that visit the Moon or Mars will love these!"
(Michael 10/12/2007 12:08:10 AM)
"I think that is exactly what they have in mind. Now, we need to know the cost of the various extras offered by the Russians, Virgin Galactic, and so forth."
(Bill Christensen 10/12/2007 9:01:53 PM)
"I'm rather fond of Jack Vance's SVU: http://en.wikipedia.org/wiki/SVU_%28Vance%29#Currency"
(Guy Geens 10/18/2007 8:32:42 AM)
"Guy, good point - I forgot to link to the fake meter, a way of distinguishing counterfeit currency in Jack Vance's 1964 novel The Killing Machine."
(Bill Christensen 10/18/2007 11:32:39 AM)
"Floppy cargo pants with huge pockets of bulky currency are ideal for spacers! Better I think to put the effort into a shielded sleeve for a more reasonable, more convenient, and most importantly LIGHTER chip type debit/credit card. These 'quid' have to be more about publicity than practicality, though, and teflon blobs do get more press than a snazzy wallet would have."
(Nelson Eisel 11/5/2007 5:05:48 PM)
"I think one of the considerations is that any kind of 'debit chip' might be damaged by radiation in space. The 'blobby' format is intended to make sure that there are no sharp edges. I think you're probably right about the publicity part, though. I'm a little bit concerned that the monetary denominations are too small - what can you buy in space for ten bucks? As I recall, everything currently in space was lifted there at a cost of about $4,000 per pound!"
(Bill Christensen 11/5/2007 6:25:03 PM)
"Don't forget 'Gil' from all the Final Fantasy games."
(Eric 3/3/2008 9:25:43 PM)
""In fact there are three freely convertible currencies in the Galaxy, but none of them count. The Altairian Dollar has recently collapsed, The Flainian Pobble Bead is only exchangable for other Flainian Pobble Beads, and the Triganic Pu has its own very special problems. Its exchange rate of eight Ningis to one Pu is simple enough, but since a Ningi is a triangular rubber coin six thousand eight hundred miles along each side, no one has every collected enough to own one Pu. Ningis are not negotiable currency, because the Galactibanks refuse to deal in fiddling small change. From this basic premise it is very to prove that the Galactibanks are also the product of a deranged imagination." From "The Restaurant at the End of the Universe" by Douglas Adams."
( 3/4/2008 12:16:50 AM)
"Forget credits. Let's call them Debits!"
(Alch3my 11/21/2008 11:27:35 AM)
"The main interworld currency could be called a 'Zammel' and a collecter of such currency would be a Zammeler. The exchange rate would be in whatever commodity the local population finds most valuable. "
(steinmentz1 10/2/2011 3:12:58 AM)
"don't forget cubits."
(JGB 11/24/2011 11:59:26 PM)
"I think the pop beads currency used at Club Med would work well in space."
(Jim Marshall 5/17/2013 11:09:21 AM)
""Sequins" in Jack Vance's Planet of Adventure tetralogy: they grow in the soil, their value depends on colour (from clear, the lowest, to purple, the highest)- and you gather them at the risk of being killed and eaten by Dirdir hunting packs."
(Peter S. 5/17/2013 12:42:21 PM)
"Peter, thanks for the great suggestion. I'll try to find the reference and add it to my technovelgy index. And Jim, you're right, if it works in water it would probably work in space!"
(Bill Christensen 5/18/2013 7:06:22 AM)
"ISK (Interstellar Kredit). See EVE, where the Capsuleer reigns supreme."
( 5/19/2013 5:40:28 PM)
"I guess I'm a bit late in pointing this out, but the earliest reference that I know about to a 'credit card' - the ultimate holder for 'credits' - is from Edward Bellamy's 1888 story 'Looking Backwards'.
A credit corresponding to his share of the annual product of the nation is given to every citizen on the public books at the beginning of each year, and a credit card issued him with which he procures at the public storehouses, found in every community, whatever he desires whenever he desires it...
(Read more about Bellamy's credit card)
"
(Bill Christensen 5/22/2013 2:31:59 PM)
Get more information on Quasi Universal Intergalactic Denomination (QUID) New Space Currency
Leave a comment:
Tediously, spammers have returned; if you have a comment, send it to bill at this site (include the story name) and I'll post it.

More Articles
Augmented Reality Ship's Bridge From Rolls Royce
'... the immense, three-dimensional, minutely cubed model...'

Artificial Blood From Factories
This blood's for you.

Wrigley's Anti-Impotence Chewing Gum
'Chew one of these, Mr. Chip.'

Arcology Now Universal Constructor
'... the hotel direly wanted to exist.'

MisTable Fog Display Like SeaQuest DSV
Captain Bridger, a message is coming in.

Full-Size Invisibility Cloak Now Possible
'I donned it and drew its hood, and threw on its current.'

Bioengineered Muscle Grows In Mice
'Joeboys... shoulders bulging with grafted muscle.'

Self-Assembling Nanoparticles Move Like Tiny Gears
'Microscopic machinery, smaller than ants, smaller than pins, working energetically...'

PredPol Predicting Crime As It Happens
'All day long the idiots babbled...'

UK Internet Filters Default To 'Family-Friendly'
'People bought personalized filter programs...'

NASA Gives Away Rocket Code - For Dads
'The rocket thundered and leaped. The children danced in their hammocks, screaming.'

Automated Planet Finder Telescope Starts The Hunt
'I was near enough it now to set my automatic astronomical instruments to searching it for a habitable planet.'

Crabster CR200 Robot Prowls The Deep
'The handling-machine did not impress me as a machine, but as a crablike creature...'

Neither Dead Nor Alive - But Not In Suspended Animation
'...Can he be brought out of the cold-pack?'

Dolphin Whistle Translator
'Louis could hear the other translator discs whistling softly in Puppeteer, snarling quietly in the Hero's Tongue.'

Military Tech Inside Your Roomba?
What else can Roomba do?

True Player Gear's Answer To Occulus Rift - Totem!
How close to this idea did Hugo Gernsback get?

Spacesuit Z-2: NASA Wants You To Pick Their Next Design
'Al was hastily donning his space suit...'

Living Slime Mold Builds Logical Circuits
Think of the countless molds in the floor of a forest. Think about how cheap bio-circuits could be.

Spray-On Polymer Mats Heal Wounds Fast
'Over her lacerated right shoulder he sprayed art-derm...'