Comments on Automated Planet Finder Telescope Starts The Hunt
'I was near enough it now to set my automatic astronomical instruments to searching it for a habitable planet.'- Edmond Hamilton, 1936. (Read the complete story)
"The European Union plans on launching the space-based Cheops (CHaracterising ExOPlanets Satellite) to search for habitable planets.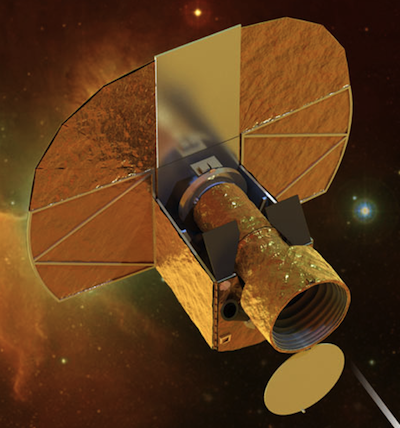 (Cheops (CHaracterising ExOPlanets Satellite))
"
(Bill Christensen 4/3/2014 10:35:05 AM)
"I should also point out that EE 'Doc Smith had the other option nailed down in his 1934 book Skylark of Valeron - the Manual Search for Habitable Planets.

Also, 'Doc Smith coined the term 'planetiferous suns' to describe extrasolar planetary systems."
(Bill Christensen 4/3/2014 10:37:22 AM)
Get more information on Automated Planet Finder Telescope Starts The Hunt
Leave a comment:
Tediously, spammers have returned; if you have a comment, send it to bill at this site (include the story name) and I'll post it.
More Articles
New Material Is One Molecule Thick
'Hasan always pitched a Gauzy - a one-molecule-layer tent...'

Robot Swarm Obeys Commands
'What is the nature of this cloud? What is your opinion?'

AliveCor App Detects Heart Arrhythmias, Has FDA Approval
Works on humans and puppeteers.

Laws Of Robotics Rewritten for Health Care
A lot has happened in health care robotics since 1942...

Origami Robot Finally Self-Assembles, Walks On Its Own
Now shipping flat, but better than Ikea, because self-assembling.

A.L.O. Robot Butler Serves You At Aloft Hotel
'Her idea of what a butler-valet combo should look like...'

Mometum Machines Burgerbot
'One of these gorgeous eating places where we were served entirely by mechanical apparatus...'

Google Lobbies For Autonomous Motorcycles
'He had never ridden any motorized device that lacked onboard steering and balance systems.'

No Cages In Future Zoos Is Zootopia?
'The park... twisted through specimens from every inhabited planet of the known universe.'

Navdy HeadUp Display (HUD) For Your Car
'All displays are thrown on a mirror in front of you...'

Computer 'Aesop' Writes Fables With A Moral
'I handed Tony the master tape and he played it into the IBM'

Artificial Wombs - Ectogenesis Technology - Is On The Way
'Magnificent, aren't they? (Lama Su, in Star Wars II)

Robotic Exoskeleton For Shipyard Workers
'Earth's scientists solved the problem... devising rigid metallic clothing not unlike armor...'

Timeful Appointment App Learns, Optimizes Your Routines
'The [Daily Schedule program] suited its tone to his movements and the combined analysis of his psychophysical condition.'

3D Printing Your Science-Fictional Metals
I love science-fictional materials!

Bespoke Clothing In 30 Minutes
'He sat himself down in a sales cubicle and dialed the code number for kilts.'

Low Cost Spray-On Solar Cells
'It turns sunlight into electricity... you spray it on.'

Survival Seed Vault Low Cost Life Bank
'They existed in the Life Bank, as did virtually every plant...'

PoseiDrone Tentacled Undersea Robot Like HG Wells'
'Its motion was so swift, complex, and perfect that at first I did not see it as a machine...'

Bionic Hand Provides 'Lifelike' Sensations, Like Luke Skywalker's
'Take care, sir.'