George Parsons Lathrop:
Science Fiction Technology and Ideas
George Parsons Lathrop (b. 1851 – d. 1898) was an American poet and novelist. George was educated in New York City and Dresden, Germany, when he returned to New York, and decided on a literary career. Going to England on a visit he was married in London, September 11, 1871, to Rose Hawthorne, the second daughter and youngest child of Nathaniel Hawthorne. In 1875 he became associate editor of the Atlantic Monthly, and remained in that position two years, leaving it to edit the Boston Courier in 1879.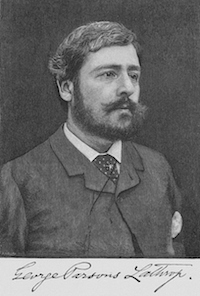 (George Parsons Lathrop)

New on Site
Gravity Neutralizers
( 9/15/2023)
Space Fleet
( 9/15/2023)
Robot-Deranger
( 9/10/2023)
Space Navy
( 9/6/2023)
Extra-Terra Bio-Institute (ETBI) Bio-Conditioning
( 9/6/2023)
Adaptene
( 9/4/2023)
Opti-Phone
( 9/3/2023)
Colony World
( 9/2/2023)
Control Harness
( 8/22/2023)
Microrob
( 8/22/2023)