Raymond Z. Gallun:
Science Fiction Technology and Ideas
Raymond Z. Gallun (rhymes with "balloon") was born in rural Wisconsin in 1910. He attended one year of college at the University of Wisconsin, then left to travel in Europe. He started writing science fiction in 1929; he attained widespread recognition with Old Faithful in 1934.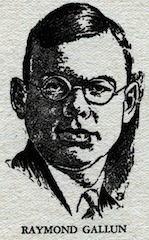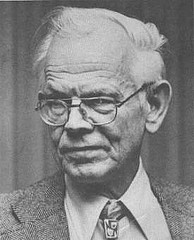 (Raymond Z. Gallun)
Along with John W. Campbell, he did as much as anyone to help science fiction evolve from crude pulp stories to interesting literature. He died in 1994.

New on Site
Personality-Construct (Lazarus)
( 11/25/2023)
Airchair
( 11/25/2023)
Meteor Hulls Ship
( 11/24/2023)
Meteor Particles (Sand Blast)
( 11/22/2023)
Asteroid Lanes (Blasted)
( 11/22/2023)
Brain-Plate
( 11/12/2023)
Robot-Boss
( 11/12/2023)
Nowhen
( 11/11/2023)
Black Bag
( 11/10/2023)
Ball-Taxi
( 11/1/2023)