Science Fiction in the News Articles
Related to material in The Star Beast
by Robert Heinlein
Wonderful Heinlein juvenile novel (written for the teen market in the 1950's). Lummox is the pet of John Thomas Stuart, great-great-grandson of the space explorer who brought him back from an early interstellar trip. Except for a taste for steel (he had once eaten a Buick), he was just your average eight-legged hippo-sized family pet.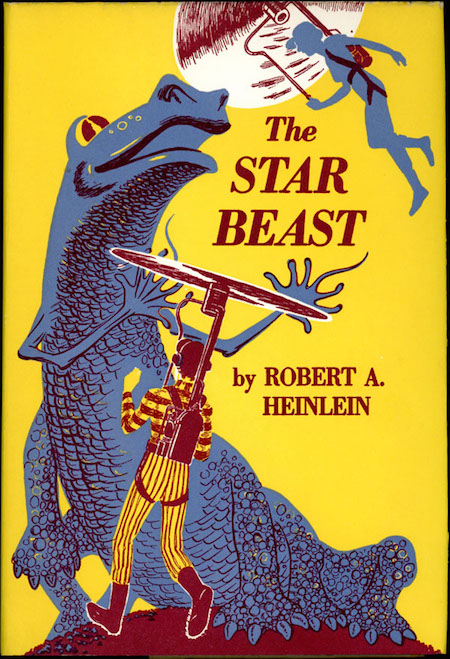 (Robert Heinlein: The Star Beast and copter harnesses)
But one day, Lummox goes for a walk (read: rampage), the Office of Interspatial Affairs gets involved - well, you'll have to read it yourself. A Heinlein favorite; great characters and a great story.
Science fiction in the News articles describe real-world events that relate to the ideas and inventions in sf novels and movies. Select a news article:
Skyray Human Glider Flight
Tired of dawdling along at one hundred and twenty miles an hour, a typical terminal velocity for human-shaped skydivers? Can you go faster? and farther?


AirScooter II Ultralight: Heinlein's Copter Harness?
In 1954, Robert Heinlein described a "copter harness" - you will soon be able to buy the AirScooter II, an easy-to-fly ultralight aircraft that comes pretty close.


Springtail EFV-4B Personal Air Vehicle From Trek Aerospace
The Springtail EFV-4B Personal Air Vehicle (PAV) is a fourth-generation vertical take-off and landing (VTOL) craft powered by a single engine.


Encyclopedia Googleactica - Google To Put All Human Knowledge Online
Google to put ten million books online; thank goodness for google. Of course, we're still waiting for Google Audio (TM) and Google Video (TM)...


First Jetpowered Flying Man
Apparently, the first successful jet-pack; it looks pretty good on YouTube.


GEN H-4 Looks Like Heinlein's Copter Harness
John Thomas really wanted one of these, and so do I.


VertiPod From Air Buoyant: Segway Of The Sky
This is a classic single-person flying machine; you steer it by leaning where you want to go.


Indian Court Says Brain Scan Proves Murder
Using a test called Brain Electrical Oscillations Signature, an Indian court convicts a woman based on her brain contents.


WolframAlpha Is Not A Search Engine
I see the WolframAlpha computational knowledge engine in two science-fictional ways, but their engineers might be seeing another.


Brain Scan Used In Murder Trial Sentencing
Should fMRI scans be admitted into evidence during trials, or even during the penalty phase of a completed trial?


CopterPack Is Robert Heinlein's 1954 Copter Harness
'...a single flyer, hopping free in a copter harness.' - Robert Heinlein, 1954.


Robert Heinlein, Your Personal Electric Helicopter Will Be Ready In 2016
"They were half way home when a single flyer, hopping free in a copter harness, approached the little parade."- Robert Heinlein, 1954.


myCopter Personal Aerial Vehicle (PAV)
Not quite as freewheeling as the sfnal version, but it might work.

Technovelgy.com is devoted to the creative inventions of science fiction authors and movie makers. Look for the Science Fiction Invention Category that interests you, the Glossary of Science Fiction Inventions, the Timeline of Science Fiction Inventions, or see what's New.
Find new authors and technologies - Shop for yourself, your library and your lab.