Don Wilcox:
Science Fiction Technology and Ideas
Cleo Eldon Wilcox (b. 1905 - d. 2000) wrote under the name Don Wilcox, as well as Buzz-Bolt Atomcracker, Cleo Eldon, Max Overton, Miles Shelton, and Alexander Blade (a house name).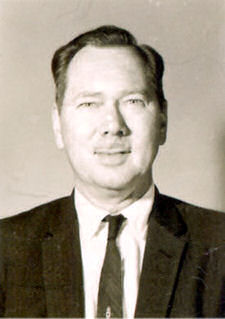 ((Don Wilcox)
Wilcox graduated from The University of Kansas, and then earned an M.A. in sociology. He taught English, creative writing, history, and sociology in several junior and senior high schools, at the Chicago campus of Northwestern University, and at The University of Kansas.

New on Site
Water Brain Fountain
( 9/25/2023)
Artibase
( 9/25/2023)
Cold-Beam
( 9/20/2023)
Simulacrum (Sim)
( 9/20/2023)
Space Fleet
( 9/15/2023)
Gravity Neutralizers
( 9/15/2023)
Robot-Deranger
( 9/10/2023)
Chest-Lens
( 9/10/2023)
Space Navy
( 9/6/2023)
Extra-Terra Bio-Institute (ETBI) Bio-Conditioning
( 9/6/2023)