George O. Smith:
Science Fiction Technology and Ideas
George Oliver Smith (b. 1911 - d. 1981) was an American science fiction writer and electronics engineer. He contributed to Astounding Science Fiction in the 1940's; his best-kown work is probably the Venus Equilateral Station story series.

Writing in 1976, Arthur C. Clarke said that George O. Smith was "probably the first writer - certainly the first technically qualified writer - to spell out the uses of space stations for space communications. George Smith, I'm sure, correctly anticipates the future."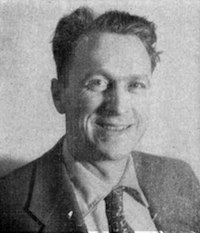 (George O. Smith)

New on Site
Gravity Neutralizers
( 9/15/2023)
Space Fleet
( 9/15/2023)
Robot-Deranger
( 9/10/2023)
Space Navy
( 9/6/2023)
Extra-Terra Bio-Institute (ETBI) Bio-Conditioning
( 9/6/2023)
Adaptene
( 9/4/2023)
Opti-Phone
( 9/3/2023)
Colony World
( 9/2/2023)
Control Harness
( 8/22/2023)
Microrob
( 8/22/2023)