Frank Phillips:
Science Fiction Technology and Ideas
"HERE is the versatile author of "Armageddon 2419 AD)." and "The Air Lords of Han," with a brand new thrilling story.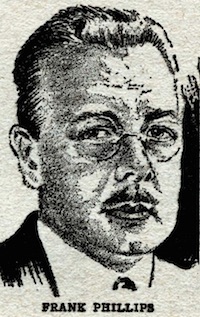 (Frank Phillips)
There are those authors whose chief claim to our attention is their imagination and those who in addition are inventors of no mean degree. The present author is a combination of both, and in addition, he knows how to create action stories that are difficidt to match anywhere."

New on Site
Spectrumoscope
( 6/24/2022)
Theater Seat Indicators
( 6/24/2022)
Indoor Stadium
( 6/24/2022)
Puff-Pipe
( 6/24/2022)
Bird-Like Robots
( 6/24/2022)
Time Line
( 6/21/2022)
Electric Menu
( 6/21/2022)
Synthony
( 6/20/2022)
Paint-to-Order Robotic Artist
( 6/20/2022)
Magnetic Projector
( 6/18/2022)