Hal Clement:
Science Fiction Technology and Ideas
Hal Clement is the pseudonym of Harry Clarence Stubbs (b. 1922, d. 2003), an American science fiction writer and Army Air Corps Reserve officer.

He received a B.S. in astronomy from Harvard in 1943, an M.Ed. from Boston University in 1946 and an M.S. in chemistry from Simmons College in 1963.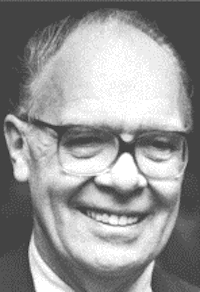 (Hal Clement)
He flew 35 combat missions as copilot and pilot in B-24 bombers in WWII and retired from service as a full colonel in 1976. He also taught high school science for many years.
He published his first short story Proof in 1946. The Science Fiction Writers of America elected him a Grand Master of Science Fiction in 1998.
Invention/Technology
Source Work (Publication Date)

Culture Tank
Germs that eat garbage and produce oil.

Needle (1950)

Floating Lunar Dust
Electrostatically charged particles that float above the surface of the Moon.

Dust Rag (1956)

New on Site
Flesh Putty
( 5/21/2023)
Warp-Speed
( 5/20/2023)
Pseudo-Insects (Synsects)
( 5/20/2023)
Planetary Computer Network
( 5/20/2023)
Micro-Android (Micro-Robot)
( 5/10/2023)
Fossil Shell Coin
( 5/10/2023)
Uranatomic
( 5/10/2023)
Spaceboat
( 5/10/2023)
Mook
( 5/10/2023)
Science Chair
( 5/10/2023)