Science Fiction in the News Articles
Related to material in The Emperor of the Stars
by Nat Schachner (w. AL Zagat)
""There are more things" said Hamlet, "than are dreamt of in your philosophy." This story by our popular team of authors serves but to prove this oft-quoted phrase.
"Sir James Jeans has only recently assured us that the world we inhabit is but a product of our senses, and may be simply a three-dimensional projection from a super world. Similarly it is possible for other worlds to exist all about us, whose laws may be entirely different than ours.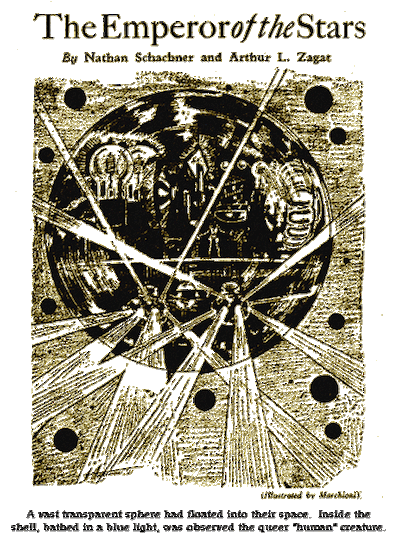 "All our physical laws such as gravitation, etc. are possibly peculiar to our universe; and in another universe particles of matter may repel each other instead of attracting.
"Surely the possibilities of a corking story in a theme like this are endless. Our authors have taken advantage of them to create a stirring tale of the adventures of two Earth-men in an alien universe."
Science fiction in the News articles describe real-world events that relate to the ideas and inventions in sf novels and movies. Select a news article:
T-Sketch The Whiteboard T-Shirt
Oh, sure, I've seen this before. You remember those bell-shaped aliens from another universe in that 1931 story, right? Okay, maybe not. But I do.


Solar-Powered Bra
This versatile item of apparel also comes with two reusable drink containers.


Transparent Thin Film Transistors Fabbed With Nanotubes
If you could implant some sort of flexible display right in (or on) your skin, what would you display on it?


Spacesuit Z-2: NASA Wants You To Pick Their Next Design
'Al was hastily donning his space suit...'- Schachner and Zagat, 1931.


SpaceX Spacesuit Design Transmitted By Elon Musk
Welcome, SpaceX, to the club of space suit imaginers and makers.

Technovelgy.com is devoted to the creative inventions of science fiction authors and movie makers. Look for the Science Fiction Invention Category that interests you, the Glossary of Science Fiction Inventions, the Timeline of Science Fiction Inventions, or see what's New.
Find new authors and technologies - Shop for yourself, your library and your lab.