Science Fiction in the News Articles
Related to material in The Mechanical Mice
by Maurice G. Hugi
"The inventor had spent twelve years perfecting the machine — a thing of marvelous complexity. Trouble was — he didn't know what it was he'd invented!"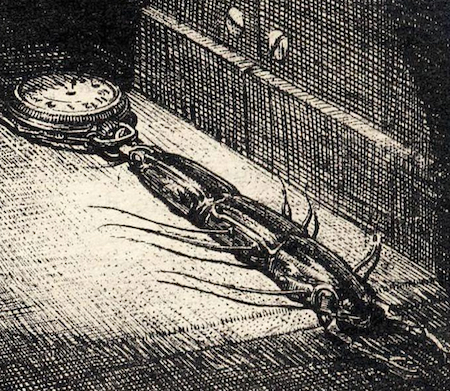 ('The Mechanical Mice' by Maurice Huigi [Eric Frank Russell])
Fantastic short story about a terrifying device constructed from a design stolen from the future. Apparently, the story was first written by Hugi, then rewritten by Eric Frank Russell. This remarkable story anticipates important elements of Bradbury's stories, as well as the mindlessly malevolent autonomous machines of Philip K. Dick's early stories like Autofac. Unfortunately, it can only be found in various out-of-print collections - or here.
Science fiction in the News articles describe real-world events that relate to the ideas and inventions in sf novels and movies. Select a news article:
Eco-Be! Mini Robot From Citizen
Tiny mechanical mouse-like robots straight out of the 1940's created from watch parts.


Defending Against Harmful Nanotechnology
The winners of the Lifeboat Foundation Guardian Award warned us about nanomachines, but at least half a century after hard-working sf authors did.


RepRap Machine Can (Almost) Duplicate Itself
RepRap is starting to get close; it can build almost all of its own parts.


Micro-Mouse Robots With Grippers Tournament
New development at the 29th All Japan micro-mouse games held at the Tsukuba International Congress Center. Now, they have arms.


XT-1 Micro Mouse With Blazing Speed
It's amazing how fast autonomouse robots are getting; watch this micro mouse robot zoom through a maze.


EggTorte Mini Micromouse
I really like the speed of this little learning robot.


Mother Robot Evolves Her Children
'The Robot Mother... the most dangerous thing in creation.' - Eric Frank Russell, 1941.


MicroTug Is A Micro Robot Beast
'And it had been dragging something...' - Maurice A. Hugi (Eric Frank Russel), 1941.


Not Quite Self-Replicating Robots, Franka Emika
'... it shares with mankind the ability to propagate.' - Maurice Hugi, 1941.


Design Your Own Robot (Carefully)
'I didn't realize it, but I was patiently building the most dangerous thing in creation...' - Maurice Hugi, 1941.


Robot Builds Robots From Voxel Subunits
'I was patiently building the most dangerous thing in creation...' - Maurice G. Hugi, 1941.

Technovelgy.com is devoted to the creative inventions of science fiction authors and movie makers. Look for the Science Fiction Invention Category that interests you, the Glossary of Science Fiction Inventions, the Timeline of Science Fiction Inventions, or see what's New.
Find new authors and technologies - Shop for yourself, your library and your lab.