Science Fiction in the News Articles
Related to material in The Last Castle
by Jack Vance
The novel is about a group of expatriates who have created a set of castles on an otherwise uninhabited world; they pursue an effete aristocratic lifestyle supported by their servants, the Meks which are manlike creatures native to a planet of Etamin.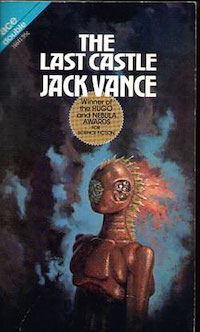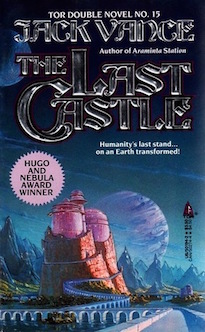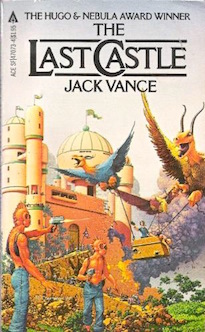 ('The Last Castle' by Jack Vance)
Their servants inexplicably revolt; what will gentlemen do? This novel shows Vance's verbal style like no other; it won both the Nebula Award and the Hugo Award.
Science fiction in the News articles describe real-world events that relate to the ideas and inventions in sf novels and movies. Select a news article:
DARPA Seeks Metabolic Dominance
DARPA has initiated a new program called "Metabolic Dominance" to assure that soldiers have superior physiological qualities. Frank Herbert had the answer sooner, though.


Musclebot: Microrobot with a Heart
A microrobot designed by microengineer Carlos Montemagno walks with the aid of living heart muscle at the University of California, Los Angeles.


Energy Cannon Now On Order
These lightweight laser-based energy weapons should be able to shoot down tactical targets like surface-to-air missiles and rockets.


The KEN Diet - Eat Nothing And Love It!
So, are you thinking of Jem'Hadar or Meks?


Biohybrid Robotics USArmy Adds Muscle Tissue To Robots
'Great rectangular slabs of muscle, slung into a rectangular frame.' - Jack Vance, 1967.

Technovelgy.com is devoted to the creative inventions of science fiction authors and movie makers. Look for the Science Fiction Invention Category that interests you, the Glossary of Science Fiction Inventions, the Timeline of Science Fiction Inventions, or see what's New.
Find new authors and technologies - Shop for yourself, your library and your lab.