Science Fiction in the News Articles
Related to material in The Lord of Tranerica
by Stanton A. Coblentz
Because Hannibal Spratt, inhuman dictator of Tranerica, wanted lovely Celia Stanwick, his exploding time-machine made a space-devouring Catalyst of the Fourth Dimension, and sucked Celia out of 1938 into the mad mechanical hell of 2439!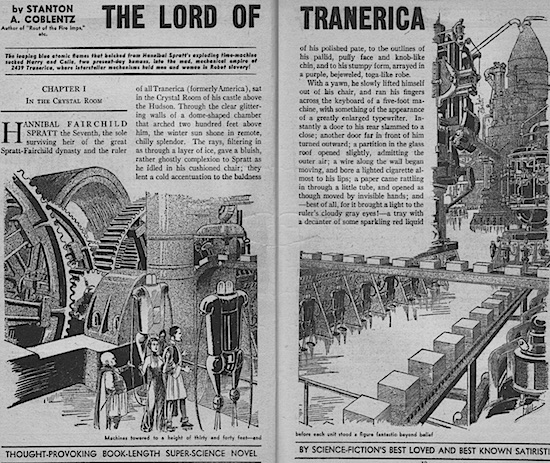 ('The Lord of Tranerica' by Stanley Coblentz)
Science fiction in the News articles describe real-world events that relate to the ideas and inventions in sf novels and movies. Select a news article:
WAM Arm Robots Help Patients Get Dressed
Take me into your caring robotic arms.


The Library Of The Future
'A Filer is an amazingly intelligent robot and there aren't many being manufactured.'


Care-O-Bot 4 Personal Service Robot
'Beside her moved a gleaming robant...'- Philip K. Dick, 1953.

Technovelgy.com is devoted to the creative inventions of science fiction authors and movie makers. Look for the Science Fiction Invention Category that interests you, the Glossary of Science Fiction Inventions, the Timeline of Science Fiction Inventions, or see what's New.
Find new authors and technologies - Shop for yourself, your library and your lab.