Flamingo: A Drama of A.D. 1950 by Clarence Edward Heller:
Science Fiction Inventions, Technology and Ideas
"IN this age of scientific and inventive progress, which sometimes borders on the miraculous, it is difficult to keep abreast of the newest "replacement." Slot machines have replaced human change-makers ; mechanical cleaners now do the work of numerous workers. The screen — and now the vitaphone— have made possible the simultaneous showing of entertainment in many cities. It is now possible to stay comfortably in your home the while you listen to the best in music and talks. And television — when it is perfected — will undoubtedly revolutionize many of the recreations of the future. But all of the improved means of amusement are subject in great measure to the temperamental whims of the performers. Perhaps some enterprising young inventor, devoting himself exclusively to eliminating this troublesome feature, will strike the secret of the perfect robot entertainer. That would call for revolutionary measures, indeed. And certainly it is not impossible in view of our present progress."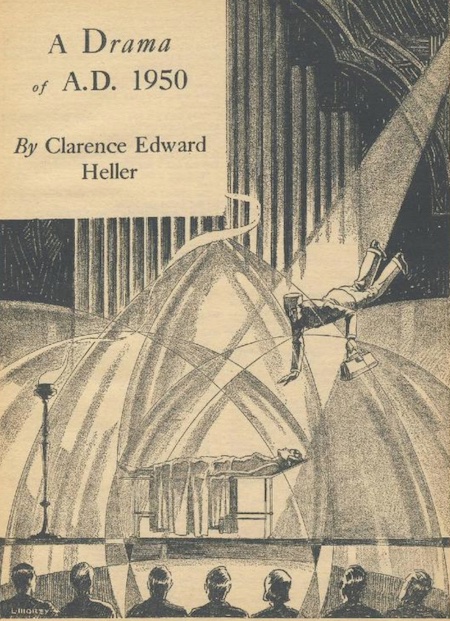 ('Flamingo: A Drama of A.D. 1950' by Clarence Edward Heller)
Down in the pit was a long white operating table. . . .
From a door high up in the wing the robot doctor entered.
Select an invention:
Spectrumoscope
Provides sight directly to the brain-cells of the sightless.
Technovelgy.com is devoted to the creative inventions of science fiction authors and movie makers. Look for the Science Fiction Invention Category that interests you, the Glossary of Science Fiction Inventions, the Timeline of Science Fiction Inventions, or see what's New.
Find new authors and technologies - Shop for yourself, your library and your lab.

Science Fiction
in the News
18 Wheels Mutant Centipede Vehicle
re: Robert Heinlein
(9/29/2023)

Octopus Suckers Inspire Transdermal Patches
re: Philip K. Dick
(9/27/2023)

Robotic Hands Have More Than One Use
re: Philip K. Dick
(9/25/2023)

Space Weather To Universe Weather
re: Poul Anderson
(9/23/2023)

That's MOXIE! Terraforming Mars Baby Steps
re: Jack Williamson
(9/21/2023)

'No, I'm Not A Robot' - Robot
re: Schachner and Zagat
(9/17/2023)

Missing Jet Finally Found
re: Roger Zelazny
(9/15/2023)

Philippines Coast Guard Cuts Chinese Barrier
re: Roger Zelazny
(9/13/2023)

Barista Robot Perfects Latte Swirl With Multi-DOF Wriggle
re: Anthony Boucher
(9/11/2023)

Vendetta 2023 All-Terrain Skateboard Could Use Neal Stephenson's Smartwheels
re: Neal Stephenson
(9/9/2023)

Safe Street Rebel Autonomous Vehicle Luddites And Schachner's 1931 Robot-Deranger
re: Schachner and Zagat
(9/7/2023)

The Electric Balance Bicycle And The Decline Of Western Civilization
re: David H. Keller
(9/5/2023)

'Droplet' Battery Microscale Power Pack
re: Alfred Bester
(9/3/2023)

ARX-5 Doing Robot Arm Dancing
re: Fritz Lang
(9/1/2023)