Max Valier:
Science Fiction Technology and Ideas
Max Valier (b. 1895 - d. 1930) was an Austrian rocketry pioneer, experimentalist and writer. He was fascinated by Hermann Oberth's work, and published both fiction and non-fiction on rockets and space travel.

He was killed when an an alcohol-fuelled rocket exploded on his test bench.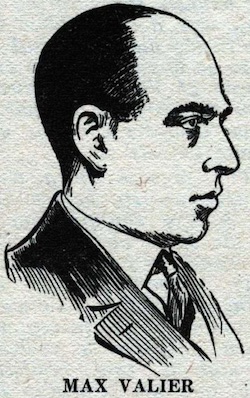 (Max Valier)

New on Site
Metal Fish
( 9/20/2022)
Robot Introspection
( 9/19/2022)
Robot Cat
( 9/18/2022)
Locatimeter
( 9/17/2022)
Stratoplane
( 9/16/2022)
Electric Cat (Robot Cat)
( 9/15/2022)
Time Loop
( 9/15/2022)
Shadow People
( 9/1/2022)
Powered Print-Book
( 9/1/2022)
Print-Book
( 9/1/2022)