Science Fiction in the News Articles
related to the works of
Frank Belknap Long, Jr.
Frank Belknap Long, Jr. (b. 1901, d. 1994) was an American author whose works ranged from horror fiction, fantasy and science fiction to gothic romance and comic books.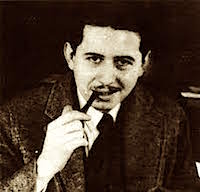 (Frank Belknap Long)
He grew up in Harlem in NYC. When a ruptured appendix nearly killed him during college, he quit to pursue a writing career. In spite of writing 25 novels, 150 short stories and many articles and scripts, he died a pauper at 92.
Science fiction in the News articles describe real-world events that relate to the ideas and inventions in sf novels and movies. Select a news article:

New on Site
Air-Conditioned Coat
( 7/2/2022)
Antiturbulence Wings
( 7/1/2022)
Translation Program
( 6/29/2022)
Messagecraft
( 6/29/2022)
Pina2bo
( 6/27/2022)
Space Tunnel
( 6/27/2022)
Solar Car
( 6/27/2022)
Spaceplane (Clarke-class)
( 6/26/2022)
Spex (Spexware)
( 6/26/2022)
Indoor Stadium
( 6/24/2022)