Science Fiction in the News Articles
Related to material in The Onslaught From Venus
by Frank Phillips
"Mr. Phillips has a knack of inventing new instruments that are as new to literature as they are to science, and there is no denying that his scientific creations are plausible and win be duplicated when the various arts have caught up with his scientific prognostications."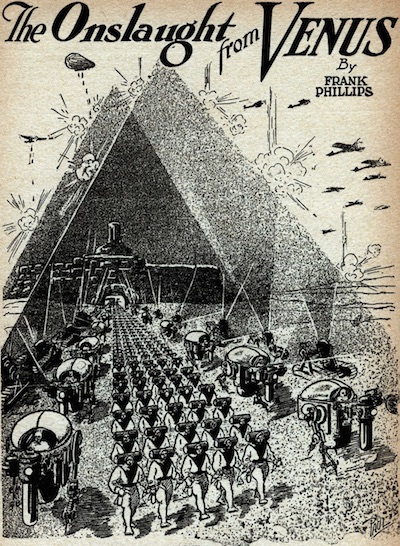 ('The Onslaught From Venus' by Frank Phillips)
"It is always most interesting to us to speculate on what would happen if some alien intelligence from another world granting that it exists — would invade this planet. Many authors have tried their hand at such a theme, but few are as forceful and versatile in picturing such a conflict as is the present author.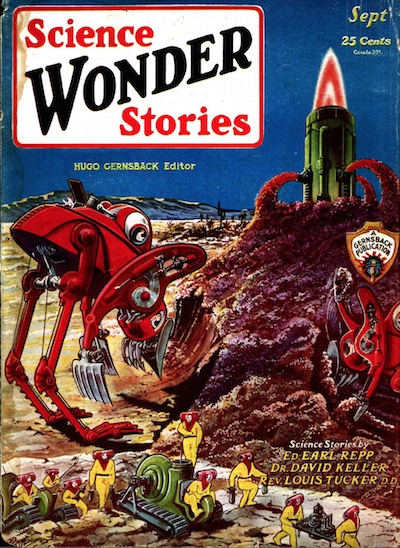 (Issue cover for 'The Onslaught From Venus' by Frank Phillips)
In addition to this, he shows convincingly the importance of terrestrial conditions as they will be experienced by alien invaders."
Science fiction in the News articles describe real-world events that relate to the ideas and inventions in sf novels and movies. Select a news article:
Boring Company Bricks Predicted In 1929
'... used to make building blocks for these invaders.' - Frank Phillips, 1929.


Force Fields Of Directed Energy Wanted By USAF
'The downrushing bombs bounced off the cone-curtain of light as though from an invisible rubber wall.' - Frank Phillips, 1929.

Technovelgy.com is devoted to the creative inventions of science fiction authors and movie makers. Look for the Science Fiction Invention Category that interests you, the Glossary of Science Fiction Inventions, the Timeline of Science Fiction Inventions, or see what's New.
Find new authors and technologies - Shop for yourself, your library and your lab.