A Question of Salvage by Malcolm Jameson:
Science Fiction Inventions, Technology and Ideas
'He just couldn't think of life without the joy and lift that comes of plunging into space with the controls of a thousand thunders under the fingertips. What surface job offered the thrill of hand-jetting across ten miles of bucking emptiness to make fast a line to an inert wreck ?'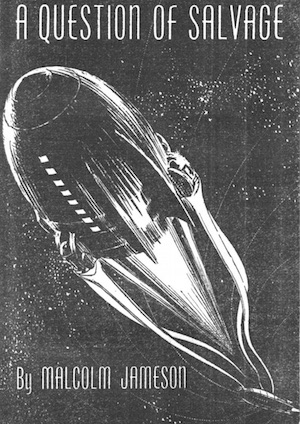 (From A Question of Salvage)
Select an invention:
Hand-Jetting
Making use of hand-held rockets or other reaction devices to move through space.
Spacedog
Experienced hands on space ships.
Telescribe
Creates a written record of distress signals and other reports.
Technovelgy.com is devoted to the creative inventions of science fiction authors and movie makers. Look for the Science Fiction Invention Category that interests you, the Glossary of Science Fiction Inventions, the Timeline of Science Fiction Inventions, or see what's New.
Find new authors and technologies - Shop for yourself, your library and your lab.

Science Fiction
in the News
Japan's LignoSat Space Wood Satellite And Dan Simmons' Treeship
re: Dan Simmons
(5/29/2023)

Skyline Robotics Instantiates Heinlein's 'Window Willie' Skyscraper Robot
re: Robert Heinlein
(5/27/2023)

Drone Bombings In Moscow Foreseen 100 Years Ago
re: Daniel Suarez
(5/25/2023)

I Didn't Know You Can Already Buy Flesh Putty
re: Nick Harkaway
(5/23/2023)

'A Sign in Space' Gives Practice In Decoding ET Messages
re: Jules Verne
(5/21/2023)

Melting Permafrost Endangers Infrastructure
re: Robert Silverberg
(5/19/2023)

EELS Exobiology Extant Life Surveyor For Enceladus
re: Susan Brownstone
(5/17/2023)

Lazy Lawyer's Trust In ChatGPT Misplaced
re: Greg Egan
(5/15/2023)

Paradromics Implant FDA 'Breakthrough Device'
re: Pournelle and Niven
(5/13/2023)

Mice, At Least, Can Sober Up Quickly
re: H. Beam Piper
(5/11/2023)

Is It Time For Lunar Farside Telescopes?
re: Poul Anderson
(5/9/2023)

Spaceflight Vertigo Solved By NASA Releasing The Kraken
re: Various
(5/7/2023)

TM-62 Loitering Ground Landmine
re: Michael Crichton
(5/5/2023)

Helpful Robots In Science Fiction
re: Marvel
(5/3/2023)