The World With A Thousand Moons by Edmond Hamilton:
Science Fiction Inventions, Technology and Ideas
Enjoyable yarn from golden age writer Edmond Hamilton. Intrepid space men find a cure for a terrible scourge afflicting their fellows and risk everything to bring it back to civilization.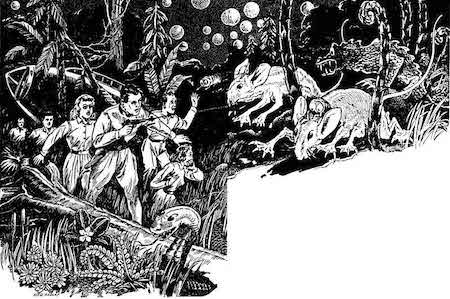 ('World of a Thousand Moons' by Edmond Hamilton)
Select an invention:
Gravitation Paralysis
Dread illness of space travelers striking when changing from very weak to very strong gravities.
Meteorscope
A device that probes ahead in space detecting swarms of deadly meteors.
Vestan Parasite
Semi-intelligent creatures that take control of the nervous system of other animals.
Weight-Shoes
Devices intended to make it easier to walk on celestial bodies with weaker gravity.
Technovelgy.com is devoted to the creative inventions of science fiction authors and movie makers. Look for the Science Fiction Invention Category that interests you, the Glossary of Science Fiction Inventions, the Timeline of Science Fiction Inventions, or see what's New.
Find new authors and technologies - Shop for yourself, your library and your lab.

Science Fiction
in the News
I Didn't Know You Can Already Buy Flesh Putty
re: Nick Harkaway
(5/23/2023)

'A Sign in Space' Gives Practice In Decoding ET Messages
re: Jules Verne
(5/21/2023)

Melting Permafrost Endangers Infrastructure
re: Robert Silverberg
(5/19/2023)

EELS Exobiology Extant Life Surveyor For Enceladus
re: Susan Brownstone
(5/17/2023)

Lazy Lawyer's Trust In ChatGPT Misplaced
re: Greg Egan
(5/15/2023)

Paradromics Implant FDA 'Breakthrough Device'
re: Pournelle and Niven
(5/13/2023)

Mice, At Least, Can Sober Up Quickly
re: H. Beam Piper
(5/11/2023)

Is It Time For Lunar Farside Telescopes?
re: Poul Anderson
(5/9/2023)

Spaceflight Vertigo Solved By NASA Releasing The Kraken
re: Various
(5/7/2023)

TM-62 Loitering Ground Landmine
re: Michael Crichton
(5/5/2023)

Helpful Robots In Science Fiction
re: Marvel
(5/3/2023)

Lunar Pogo Stick - Retro Technovelgy From 1968
re: Isaac Asimov
(5/1/2023)

MIT And Rice Create Blade Runner Photo Analysis
re: Ridley Scott
(4/29/2023)

SayCan with PaLM - Google's Robot Helper
re: Various
(4/27/2023)