Frank Belknap Long, Jr. (b. 1901, d. 1994) was an American author whose works ranged from horror fiction, fantasy and science fiction to gothic romance and comic books.
"Same complex which makes him sensitive about gray hairs prohibits revelation of exact date. Is that incredible variety of rara avis, a Native New Yorker. Educated New York public schools and New York University, School of Journalism.
Was an early contributor to Wonder Stories, having crashed a quarterly with a short-short far back in the pleistocene age. Published a volume of poems a decade ago which received rather gratifying reviews in London Times, Boston Transcript and New York Tribune. Hopes eventually to live it down. Is spare-framed, and a bit shy, and single."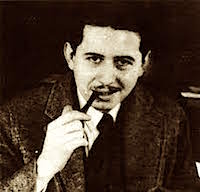 (Frank Belknap Long)
He grew up in Harlem in NYC. When a ruptured appendix nearly killed him during college, he quit to pursue a writing career. In spite of writing 25 novels, 150 short stories and many articles and scripts, he died a pauper at 92.
Science fiction in the News articles describe real-world events that relate to the ideas and inventions in sf novels and movies. Select a news article: