Fritz Leiber:
Science Fiction Technology and Ideas
Fritz Leiber (1910-1992) was a noted American author of fantasy, horror and science fiction. Two of his novels were awarded Hugos and two of his short stories were given Hugos as well.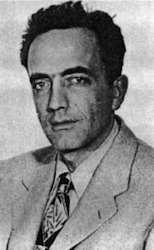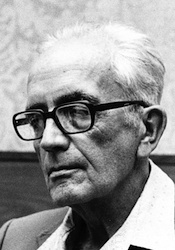 (Fritz Leiber)
His Fafhrd and the Gray Mouser series, written over a period of fifty years, created and defined the "sword and sorcery" genre. He acted in several films, and was an expert fencer and chess player.

New on Site
Flesh Putty
( 5/21/2023)
Warp-Speed
( 5/20/2023)
Pseudo-Insects (Synsects)
( 5/20/2023)
Planetary Computer Network
( 5/20/2023)
Micro-Android (Micro-Robot)
( 5/10/2023)
Fossil Shell Coin
( 5/10/2023)
Uranatomic
( 5/10/2023)
Spaceboat
( 5/10/2023)
Mook
( 5/10/2023)
Science Chair
( 5/10/2023)