Science Fiction in the News Articles
Related to material in A Case of Conscience
by James Blish
"Rarely, if ever, has science fiction plumbed so deeply and with such sensitivity the depths of human thoughts and emotions as in this case. For here, Earthmen's vote has a direct effect upon the future of a planet, their own culture and the universe itself. "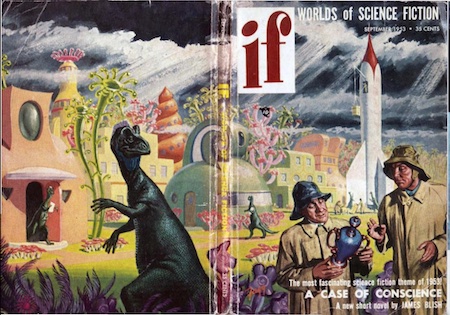 ('A Case of Conscience' by James Blish)
This is a wonderful book; first published in 1953 as a novella, and then as a novel in 1959; it was a winner of science fiction's Hugo award. It is both a fast-paced adventure story and a very thoughtful look at human values and ethics. Religious values are also explored, by looking at the creatures of the planet Lithia who appear to be moral creatures, though lacking belief in god. It is this very question that underlies our country's separation between church and state; if you do not believe that it is possible to be moral without religion, how can you separate the state from religion?
Science fiction in the News articles describe real-world events that relate to the ideas and inventions in sf novels and movies. Select a news article:
Catholic Belief And Extraterrestrial Intelligent Life
Jesuits in fact and in fiction aproach the question of whether aliens might exist, and if they have souls.


Do Aliens Have Souls?
The Vatican's chief astronomer thinks that the existence of aliens would not contradict Catholic belief. But what about their souls?


Tweeting Tree Like Blish's Message Tree
I've heard of whispering pines, but twittering trees? Sony Ericsson does it again.

Technovelgy.com is devoted to the creative inventions of science fiction authors and movie makers. Look for the Science Fiction Invention Category that interests you, the Glossary of Science Fiction Inventions, the Timeline of Science Fiction Inventions, or see what's New.
Find new authors and technologies - Shop for yourself, your library and your lab.