Science Fiction in the News Articles
Related to material in The Cometeers
by Jack Williamson
I have to go with the blurb from a 1967 paperback version:
"a spaceship twelve million miles long, the secret weapon that controls the Universe, a superhuman traitor to all mankind and, defying mortal peril, fantastic dangers, and the dread powers of the invincible Cometeers, the grandest trio of swashbucklers in all of science fiction - Jay Kalam, Hal Samdu and the incomparable Giles Habibula!"
'Nuff said.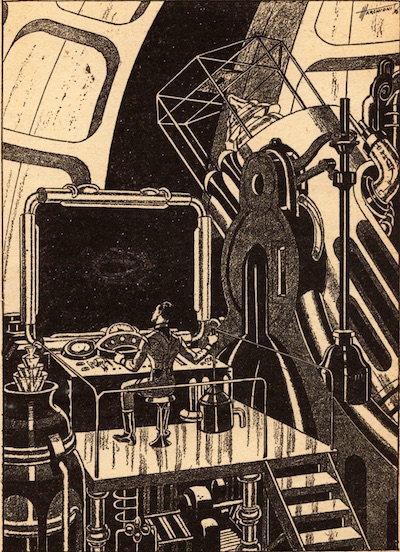 ('The Cometeers' by Jack Williamson)
Science fiction in the News articles describe real-world events that relate to the ideas and inventions in sf novels and movies. Select a news article:
Green Comet Machholz - Hopefully, Without Cometeers
In his 1936 classic The Cometeers, science fiction Grandmaster Jack Williamson writes of a sinister green comet; now you can look up and see one.


First Asteroid Belt Found Around Star Like Our Sun
An asteroid belt may have been found surrounding a star much like our own Sun, according to Dr. Charles Beichman of CIT. His team used NASA's Spitzer Space Telescope to make the discovery.


Green Comet Lovejoy - Cometeers Coming From Below?
Where's Giles Habibula when you need him? A green comet approaches the solar system.


GPS Shoes Track Alzheimer's Patients
Keeping track of people with Alzheimer's will get easier once GTX and Aetrex have embedded GPS locators in their shoes.


Location History Dashboard By Google
Make a map of your steps and check the statistics.


Menlo Device By Microsoft Tracks You Precisely
This little gizmo can track you everywhere, indoors and out.


Enormous Ship Refuels From The Sun Video Update
That darned Death Star has to get its planet-busting energy from someplace. Now updated by NASA!


What Price Warp Drive?
'Every atom of ship... was driven around space... by a direct reaction against the space warp itself.' - Jack Williamson, 1936.


Google's Cartographer Backpack For Indoor Mapping
'He reached to unsnap the cartograph from his belt.'- Jack Williamson, 1931.


Airnest Drone Flight Logging Tool
'He reached to unsnap the cartograph from his belt.'- Jack Williamson, 1931.


Roomba Hoovers Up More Than Dirt
'He had brought that tiny instrument to map their movements.' - Jack Williamson, 1936.


Was Jack Williamson's 'Cometeer' Ship Inspired By Halley's Comet?
'Its shape was puzzling - a strangely perfect ellipsoid...' - Jack Williamson, 1936.

Technovelgy.com is devoted to the creative inventions of science fiction authors and movie makers. Look for the Science Fiction Invention Category that interests you, the Glossary of Science Fiction Inventions, the Timeline of Science Fiction Inventions, or see what's New.
Find new authors and technologies - Shop for yourself, your library and your lab.